Over 30 institutions have joined Teesside University's Passport scheme
We provide your students with information, support and encouragement to progress to higher education.
Find out more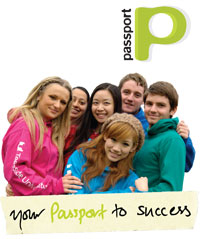 If your college of sixth form is not currently part of the Passport scheme and you are interested in finding out more - get in touch.
T: 01642 342275
E: passport@tees.ac.uk
Passport is open to any student who has a genuine interest in progressing to higher education and/or Teesside University.
By joining the scheme students have the opportunity to sample university life. They receive invitations to Teesside University events and activities as well as an exclusive invitation to our new Year 12 conference which will provide a range of transitional and progression activities, skills development sessions and inspirational lectures from industry experts.
Benefits to your students
By taking part in a range of innovative sessions your students can build an understanding of the vast choices available to them at Teesside University. Involvement in the scheme will provide a wealth of opportunities and experiences applicable for inclusion on the UCAS application form.
Students also have the opportunity to participate on our Passport ambassadors scheme, which invites Year 12 and Access students to put themselves forward as representatives for their school or college – an excellent opportunity for them to develop their skills and shape the way Teesside University develops.
Those students demonstrating commitment and continued success throughout the scheme have their accomplishments recognised in our annual celebration of achievement event.
Passport pride awards
The Passport pride awards recognise and celebrate the achievements of our Passport students and institutions. The awards acknowledge the winners' achievements and encourage continued success in their final year in further education. They also celebrate the partnership we enjoy with institutions in the region in supporting students progressing to higher education.
More about the Passport pride awards
Passport ambassadors
Do you want to be a Passport ambasador?
More about the ambassadors