Activities for teachers and advisers
Teachers and careers advisers can book their students on our pre-entry activities. We try to make sure you are up to date with university courses and events so we've developed a series of activities purely for you.
Contact us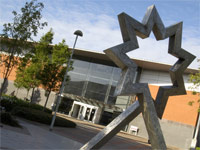 Find out more
T: 01642 342275
E: enquiries@tees.ac.uk
Expression of interest form
Supporting progression conference
It has never been more important to make sure that we're doing the best we can to support our students and raise their aspirations.
With this in mind, we have brought together a team of experts to provide you with the most up-to-date information and advice for tackling some of today's biggest issues in higher education.
Designed for teachers and those playing an important role in encouraging and advising students, this conference is an opportunity for you to benefit from sharing best practice in teaching and progression.
There are no events at this time.
Part-time open days
One of the largest providers of part-time courses in the country, we offer opportunities at certificate level through to postgraduate level at our Teesside campus. From Education to Business, there is something for everyone.
There are no events at this time.
Next event: 15 July
Part-time open day
Postgraduate open days
Aimed at those wishing to undertake postgraduate study, these open days provide an opportunity for those wishing to develop their career specialise in a particular subject or learn something new.
Next event: 13 November
Postgraduate open day
Further Maths Centre
Teesside and North Yorkshire Further Mathematics Centre (FMC) exists to support the teaching of Further Mathematics to students in all schools and colleges with sixth forms within the area.
More about the Further Maths Centre