Activities for Year 12 and 13 students
These events and activities support students in Years 12 and 13 to make an informed decision about university, courses and careers.
We'll come to you: progression days
Invite us to your progression day and leave it to our team of staff, recent graduates and student ambassadors to deliver a tailor-made package of presentations, interactive workshops and activities to meet your needs. Select the workshops and activities you would like us to deliver from the list below.
Come to us: campus visit
Hold your progression day at Teesside University. We'll provide transitional activities and add an interactive, subject focused activity, formal presentation or facility tour.
Inspire
A range of activities to raise your students' aspirations and get them thinking about their options after college or sixth form.
Celebrity guess who?
We present descriptions of well-known celebrities who have developed their career through academic achievements. Students learn by identifying celebrities from inspiring statements.
Course pictionary
Students work in small groups to guess which course is described in pictures. This fun session highlights the wide range of courses available at university.
Mythbusting university
This session challenges students to debate some common myths surrounding university life. It highlights the transition from further education to higher education and addresses key areas such as independent study, finance and funding, assessment and social life.
Student experience
Delivered by a current student, this session gives a student perspective on university life. It's an informal opportunity for your group to ask questions about higher education and think about what student life is really like.
University challenge
This competitive team quiz challenges students to answer questions on progression to higher education. Ideal as a stand alone exercise or as the final session of a bespoke programme designed to test what your students have learned after a day of activity.
Who makes them?
This activity gets students thinking about the range of subjects on offer and the careers available to them. After choosing a celebrity and related scenario, students think about the skills and subject strengths that they would need help the celebrity be successful.
Develop
Workshops to equip your students with the skills they need to follow their chosen path of education or employment.
Interview skills
Outlining practical steps to prepare students for a university or job interview, we teach students how to give evidence of their skills and experience. The group put each other to the test at the end of the session by taking part in mock interviews.
Personal branding
Whether your students are contemplating employment, training or higher education, the marketplace is very competitive and they need to set themselves apart from the rest of the pack. Delivered as a short presentation or a longer workshop, this session encourages stduents to consider the successes of famous brands and their strengths and qualities. The exercise helps students think about how to pitch themselves to potential universities or employers. It also gets pupils thinking about their online presence and how this can be used to help achieve their ambitions.
Presentation skills
An introduction to the four Ps of the presentation - plan, prepare, practice and present. We offer tips and guidance on all aspects of giving presentations as well as outlining the importance of nonverbal communication and body language when delivering a message.
Study skills
In this session, your students will consider what type of a learner they are and how this affects the way they study. They will also be introduced to some simple techniques for managing their time and developing a balanced approach to study and their social life. It also explores the pressures students can face when revising and provides hints and tips for relaxation and handling stress.
Discovery days
Discovery days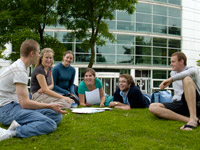 For more information about discovery day group bookings
T: 01642 342275
E: enquiries@tees.ac.uk
A wide range of subject-specific topics are offered in these interactive workshops. Students take part in a hands-on activity similar to those experienced by first-year undergraduates. It helps students choose a subject they are interested in studying at higher education level.
Sixth Form Conferences
Next event: 01 March
Law Sixth Form Conference - Y12
Masterclasses
These sessions are suitable for high achieving year 13 students and demonstrate how curriculum subjects translate to the health sector. Places are limited to 20 students at each class and run 4.00 - 6.00pm on campus.
There are no events at this time.
Speakers into schools and colleges
We understand it's not always possible to release pupils from the curriculum so let us bring our expertise to you. These formal subject presentations and/or workshops provide subject enrichment - they raise awareness and understanding of a subject and associated careers that your students may aspire to.
More about speakers into schools and colleges
Subject talk
Our subject talks help students get a real understanding of the different subject areas available to study at higher education level. They look at specific courses within these areas, exploring course content, entry requirements and associated careers.
Girls and gadgets conference
This computer conference is designed to get girls excited about using computers and destroy the myth that computers are for boys.
It provides the opportunity to gain hands-on experience and develop an understanding of both the creative and technical skills involved in this exciting subject area. Typical workshop activities include e-journalism, networks, 3D animation and photo editing.
*Please note that places are allocated on a first-come, first-saved basis (limited to 10 per school/college).
More about our girls and gadgets conference
Senior maths team challenge
An enriching and enjoyable activity, students work together to solve challenging and interesting mathematical problems. Each team has four students accompanied by a member of staff. The competition is organised by the Further Mathematics Support Programme (FMSP) and UKMT.
Further information on the FMSP
ExpoTees NextGen
This competition-based event challenges students to work in teams and build a project that shows what, and how, they would like to learn using computing technology.
Each group needs to work together as a team and present their work as creatively as possible. The winning team is awarded an exhibition space at Teesside University's renowned ExpoTees event, where they can showcase their work to industry representatives.
Teams can have a maximum of 5 students and must be from Year 8/9 or Year 12/13.
More about ExpoTees
We'll come to you: progression days
Invite us to your progression day and leave it to our team of staff, recent graduates and student ambassadors to deliver a tailor-made package of presentations, interactive workshops and activities to meet your needs. Select the workshops and activities you would like us to deliver from the list below.
Come to us: campus visit
Hold your progression day at Teesside University. We'll provide transitional activities and add an interactive, subject focused activity, formal presentation or facility tour.
Inform
A series of presentations and interactive workshops designed to give your students the information they need to make an infored decision abotu their options after school or college.
Alternative routes into education
Full-time undergraduate courses aren't the only option. Students can find out about the breadth of choices available in higher education such as higher national diplomas, foundation degrees, distance learning, summer university and postgraduate study.
Finance and funding
In this session we detail the funding available for university tuition fees andliving costs and explain how students can pay this back when they complete their studies.
What is higher education?
This interactive presentation identifies what students should consider when thinking about going to university. It covers how to research universities and courses, the application process and the benefits and value of higher education. The session encourages students to start early with their higher education research.
What's the difference?
How do well-known jobs in similar fields compare? What's the difference between a nursery nurse and a paediatric nurse, or a builder and a chartered surveyor? Exploring entry requirements, starting salaries and career paths, this presentation encourages students to think about the routes they might take.
Progress
This series of presentations and workshops helps prepare your students for their university applications. The sessions make for excellent UCAS applications and equip your students with the information they need to make the best choices for the future.
Applying to university
This interactive presentation is for students who are about to apply to university. We cover all aspects of the application process, including writing a personal statement and preparing for a university interview. This session can be delivered in combination with choosing a course and university, or personal statements.
Choosing a course and university
Taking a detailed look at the range of higher education institutions and courses available, this session challenges students to think about the most important factors to consider when choosing a subject and institution. By providing tips on researching suitable courses and comparing universities, this session gives students the ability and confidence to carefully research their options before applying to UCAS.
Personal statements
Encouraging students to consider their career aims, subject strengths, and personal skills, we equip each individual with the potential to write an outstanding personal statement. This session can be delivered as a treasure hunt around our campus or at your school or college as a presentation. Get in touch to find out more.
Preparing for a higher education event
Open days and UCAS exhibitions are excellent opportunities for students to gather lots of research about their future options. This session prepares students to attend these important events by offering advice on how to plan their visits, what to look for and what questions to ask.
The open day experience
If your students are thinking about studying at Teesside, then they can't miss out on our open days. They'll get a real flavour of life here as they tour the campus, view accommodation and meet current students and staff. Family and friends are welcome too.
If you have a number of students interested in Teesside University then why not make a day of it and bring a group? We can offer students a great experience at our open day with VIP treatment including a pre-visit session unique to your students, pre-registration to avoid queues on the day and a contribution towards travel costs.
Next event: 25 February
Undergraduate open day, 2017 start