Performance sport
FA Girls' Regional Talent Club
We have been chosen as a FA Girls' Regional Talent Club to help the next generation of female football stars flourish.
Contact us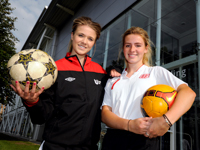 For more information about the FA Girls' Regional Talent Club contact Lindsey Stephenson on 07557 780914 or email l.stephenson@tees.ac.uk
We are proud to hold an FA licence to run a Regional Talent Club (RTC) for girls' football. The RTC aims to produce female footballers of international calibre and has a track record of developing players who progress within the FA's talent development structure.
The RTC focuses on individual player development and provides girls with high-quality coaching and support. Players attend two football training sessions each week with additional strength and conditioning and/or movement and technical skill development sessions and fulfil a fixture programme in the following age categories
under 10s
under 12s
under 14s
under 16s
In 2017 our under 16s reached the FA youth cup semi-finals.
Teesside Sport RTC trials for season 2017-2018:
The Regional Talent Club age bandings run on an academic calendar (September to August) and are in line with grass roots football clubs.
The age ranges for the Regional Talent Club for the 2017/18 season are detailed below:
under 10s (born between September 2007 and August 2009)
under 12s (born between September 2005 and August 2007)
under 14s (born between September 2003 and August 2005)
under 16s (born between September 2001 and August 2003)
Teesside Sport RTC trials for season 2017-2018:
Any girls' wanting to get involved are welcome to attend our trials process.
Trial dates are as follows:
Monday 12 June, 6.00pm-8.00pm
Thursday 15 June, 6.00pm-8.00pm
Monday 19 June, 6.00pm-8.00pm
Thursday 22 June, 6.00pm-8.00pm
All trials take place at Saltersgill Sports Ground, Saltersgill Avenue, Middlesbrough TS4 3QQ.
You can apply for a Teesside Sport Regional Talent Club trial here.