News
Volunteers inspire youngsters to try indoor rowing
Student volunteers at Teesside University are taking the lead to inspire youngsters to try their hand at an Olympic sport.
More information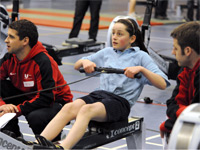 Heidi Wood, a second year BSc (Hons) Sport and Exercise (Coaching Science) student, and Antony Pearson, a third year BSc (Hons) Sport and Exercise (Applied Exercise Science) student, have been coaching youngsters at indoor rowing as part of the Middlesbrough Schools Rowing Project.

Both Heidi and Antony are project managing a total of 13 other student volunteers at Teesside University and the group have been delivering coaching in Middlesbrough Secondary schools in order to increase participation in indoor rowing.

Partly funded by the wider Tony Blair Sports Foundation Get Going, Get Rowing scheme, Heidi and Antony, are also being trained to attain their level two Rowing Coach Award.

The Get Going, Get Rowing scheme provides professional training to allow staff and students in schools, colleges and universities to deliver indoor rowing coaching to young people.

The Teesside University volunteers have already hosted an indoor rowing event for Middlesbrough youngsters and have been going in to schools to improve performance.

A Tees Valley indoor rowing final will now take place at Teesside University on 13 December.

Nat Broom, Sports Development Officer (Volunteer Development) said: 'The events are being planned and managed by the two lead students, who are responsible for overseeing the whole project.

'It's a great opportunity for them to gain some vital employability skills whilst working towards the goal of increasing participation in indoor rowing across the Tees Valley.'

05 December 2011
In the News
Inspiring the next Olympians
Northern Echo, 14/12/2011, p.37
Katherine Copeland, a member of the Great British rowing team, and team coach James Harris visited Teesside University as part of the Tony Blair Sports Foundation Get Going, Get Rowing scheme.