Student Experience Fund
Find out more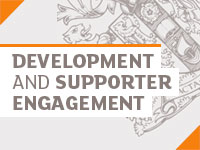 T: 01642 342277
sfo@tees.ac.uk
Teesside University has many generous donors who demonstrate incredible kindness in their support of our efforts to provide an outstanding student learning experience to our students.
The Student Experience Fund is a unique funding stream, drawn from donations to the University, which allows students to access grants for specific projects or activities which will enhance their learning experiences and make a wider positive contribution, including international excursions, exchange opportunities and field trips.
If you're a current Teesside student and have a great idea for a project that could make a real difference, why not apply for funding to help you do something amazing.
Individuals and groups can apply for up to £2,000 and support in developing your application is available through the Library and Student Life Services team and the SU Activities team in the Students' Union.
We also want you to work with us to promote and share the outcomes of your experience to demonstrate what it is possible to achieve and also to help us say thank you to the donors who make the fund possible.
There are two rounds of applications:
Stage one is now open for applications; deadline is 31 March.
Stage two opens on 3 April and closes on 31 May.
Support in developing your application is available through Student Services and the SU Activities in the Students' Union.
Call 01642 342277 or email sfo@tees.ac.uk to find out more.
Please note that these offers are for UK or EU students (as defined by UCAS).
Scholarships for non-UK students