entrepreneurs@tees
How do I join?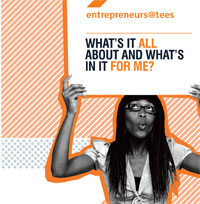 You just need to get in touch:
It's your future
Supporting and encouraging entrepreneurship
entrepreneurs@tees offers a range of exciting events and challenges to help you become an entrepreneur of the future, and add powerful evidence to your CV of your business sense and capacity.
entrepreneurs@tees works closely with Teesside Entrepreneurs , the student enterprise society, to help develop your enterprise skills and make sure you make the most of your time at University.
If you want to be the next Alan Sugar or just want to learn and experience business in a fun and informal way the entrepreneurs@tees programme could be for you. Contact us for more information at ents@tees.ac.uk .
Beer mat business idea challenge – £50 for 50 words!
The best business ideas are normally the simplest. Management guru Mark Southon said 'if you can't explain your business idea on the back of a beer mat there's something wrong with it'. So prove him right. Look out for beer mats in and around the campus during Welcome Week and describe your idea in 50 words to win £50.
Teesside Entrepreneurs Society
Teesside Entrepreneurs, the student enterprise society, is looking for students to get involved in running it. In particular they need a management committee of enthusiastic and dedicated members who can manage this year's activities and events.
Membership is open to students, alumni and graduate businesses and is a great opportunity to meet some interesting people, make new friends and put something really useful on your CV. To find out more, email ents@tees.ac.uk k.
What people say about entrepreneurs@tees
We have an outstanding reputation in helping students start real businesses and the University has helped launch over 300, including computer games companies, animation studios, graphic design companies, and many, many more.
100 percent of students surveyed at Teesside University who are involved with Entrepreneurs@tees projects would encourage other students to get involved in enterprise activities while they are at University. 93 percent said it made them more confident, 86 percent more creative and over 80 percent more articulate, adaptable and aspiring.
Just the act of applying for the entrepreneurs@tees challenges and blueprint awards brought countless benefits like networking, inspiration, contacts and University support.
Phil Wilkinson, Edutal, Digital City Fellow and Teesside University incubated company.
Teesside has given me continuous business start-up support, including mentors, workshops and the confidence to move forward with my business ideas.
Steven Miller, Inspired Web, Teesside University virtual incubated company.
I am absolutely overjoyed to have been awarded two prizes at blueprint. This really acknowledges the success of the company and the hard work of our staff.
Vinnie Morgan, Mango Creative Studio, Digital City Fellow and Teesside University incubated company.
With five new members of staff, a network of clients, business contacts and University professional advisors we plan to expand our business here on Teesside.
Rachel Barnes and Sharon Atkinson, Call Agents UK Ltd, Teesside University incubated company.