News
Teesside University celebrates Universities Week
Teesside University is celebrating Universities Week 2012 with a whole host of events.
More information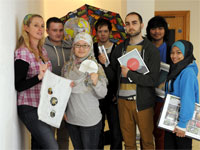 Students working on Mapping Four Corners exhibition
---
This is the third annual Universities Week campaign, which is a national campaign to increase public awareness of the wide and varied role of the UK's universities. This year's campaign will look at the contribution universities make – and have always made – to the Olympic movement, the sports industry and society as whole.

Teesside has a renowned reputation for sports courses which include everything from coaching to therapy and sports science plus an elite athlete scheme to support the sporting stars of the future.

Professor Graham Henderson CBE, DL, Vice-Chancellor of Teesside University, said: "We are delighted to be celebrating Universities Week with so many events across campus. As a multi-cultural University, it is an excellent chance for us to share and celebrate different cultures.

"The week also highlights the learning and the important creative work which goes on in our University. It is a great opportunity for the community to get involved and to experience the cultural diversity of our campus."

Universities Week 2012 follows a successful campaign in 2011, which saw 110 universities and 52 renowned ambassadors take part in showcasing the work of the higher education sector including Teesside University.

Universities Week events

An Audience With...Sharon Gayter – Sharon smashed the world record for running on a treadmill over seven days at the University in December and has since gone on to break the record of the famous Head to Head route in Ireland.

Sharon will be talking about her experience on Thursday 3 May; Centuria Building, Victoria Road, Middlesbrough at 5.30pm.

Writing your way in and out of trouble – Matt Whyman, author, advice columnist and regular guest on BBC Radio One's advice show The Surgery with Aled, will give a talk on creative writing. Matt has written everything from novels to drug awareness campaigns, from advice columns to the blurb on cereal packets.

Meet Matt on Wednesday 2 May; Centuria Building, Victoria Road, Middlesbrough at 4.00pm.

Lunchtime concert – with Congolese musician Robert Maseko – Friday 4 May; Brittan Hall, off Borough Road, Middlesbrough, at 12noon – 1.00pm.

Mapping the Four Corners – an exhibition in Constantine Gallery, Middlesbrough Tower, Borough Road, open Monday 30 April to Friday 4 May, 9.00am-5.00pm.

Tees Valley schools hockey finals – supported by student volunteers – Wednesday 2 May; Olympia Building, Victoria Road, Middlesbrough at 11am-3.00pm.

Tees Valley Future Champions project – a strength and conditioning session for aspiring young athletes, supported by Teesside University student volunteers on Wednesday 2 May; Centuria South, Victoria Road, Middlesbrough at 5.00pm-7.00pm.

27 April 2012
In the News
Racing into history
Northern Echo, 29/05/2012, p.52
Sharon has run the 800 miles from Land's End to John O'Groats taking more than 17 hours off the world record and pounded a treadmill for seven days at Teesside University where she broke the men's record by almost 50 miles and sliced 100 miles off the female title.
---
Sharon gives free public lecture
Northern Echo, 03/05/2012, p.45
That truly amazing ultra runner Sharon Gayter this evening gives a public lecture at Teesside University on what makes her tick. 'An evening with Sharon Gayter' will tell how she thinks, prepares and trains for "accomplishments beyond the imagination." It's in the Centuria Building, just off Linthorpe Road, refreshments from 5 30pm, 6pm start. Admission's free.