News
Creative Teesside to be given a BBC boost
The Controller of BBC Four Richard Klein will inspire students when he officially opens Creative Teesside.
More information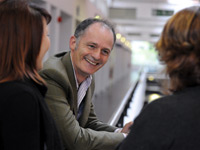 Controller of BBC Four Richard Klein.
---
Creative Teesside is a free annual event at Teesside University which celebrates the hard work, dedication and creativity of students from the School of Arts & Media.

Richard, who became Controller of BBC Four in December 2008, will attend the Art & Design degree show on Monday 21 May to officially open the week's events.

Richard began his career as a reporter for a North London newspaper before moving to London Weekend Television (LWT) as a researcher. He progressed to director, where his work included LWT's Weekend World and Eye Witness. He joined the BBC in 1996 as a Series Producer before moving into commissioning, becoming the Commissioning Editor for Documentaries in 2005, then Controller of BBC Four in 2008.

Richard is a friend of Teesside University and gave an inspirational talk to students about his broadcasting career in October last year.

Students to be inspired again
Professor Gerda Roper, Dean of the School of Arts & Media, said: 'We are delighted to be able to welcome Richard Klein back to the University to officially open Creative Teesside.

'When he was here last year he gave an invaluable insight into the world of broadcasting and I am sure that our students will be inspired to again see Richard Klein involved in an important Teesside University event.'

Creative Teesside runs from 21–25 May and will see work displayed in a whole host of disciplines, including Design, Performing Arts, Media and Fine Art.

Events include the prestigious Art & Design degree show with a mix of work from a range of specialist areas, the Cabaret of Spoken Word, showcasing some of the best live work produced on poetry and drama modules and the Performing Arts Show, with a range of energetic and innovative performances.

Professor Roper added: 'Creative Teesside is a fantastic opportunity for our students to really show what they can do. Every year I am impressed at the standard of the student work and this year is no exception.'

Events at Creative Teesside are free and open to the public – though booking is required for some events. For further information email arts@tees.ac.uk or visit the Creative Teesside website.
15 May 2012
In the News
Creative Teesside
Northern Echo, 16/05/2012, p.39
The controller of BBC Four will officially open a week-long event showcasing the work of talented students. Richard Klein will open Creative Teesside, which runs from Monday to next Friday at Teesside University in Middlesbrough.