News
North East computing students' digital project builds a securer society
Final year computing students from two North East universities have successfully collaborated on a project designed to enhance Darlington Building Society's digital security systems.
More information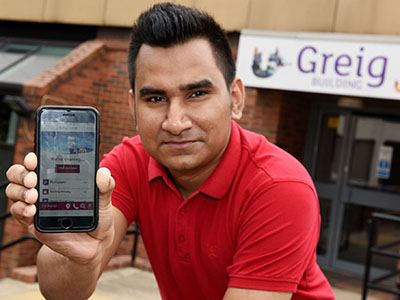 Mozammel Sajib
---
Earlier this year, the building society had challenged the region's five universities (Teesside, Sunderland, Durham, Newcastle and Northumbria) to develop a live project which could potentially be used within its core business, offering students an opportunity to enhance their own technology and work-based skills.

When Teesside University and University of Sunderland students, presented their ideas to Darlington's executive board, so impressed were they with the concepts that both universities were invited to work as part of an internship programme to extend their projects within the organisation's own digital team.

Mozammel Sajib, a BSc (hons) Information Technology student from Teesside University evaluated Darlington Building Society's website and made a number of suggestions about how it could be improved.

University of Sunderland BSc Computing Forensics students, Michael Leck, Hassan Sharif and Ioannis Violitzopoulos, came up with the idea of using gaming as a way of making the organisation's cyber-security training and continuous development more interesting and enjoyable.

The challenge was supported by CyberNorth, a regional cyber security initiative and co-chaired by University of Sunderland's Professor Alastair Irons and David Carroll, Managing Director at XQ Cyber, a cyber security specialist.

It has also led to all the students being offered work experience opportunities after their studies are complete, as well as summer placements with Darlington Building Society.

Mozammel Sajib is a second year BSc (Hons) Information Studies student from Dhaka in Bangladesh.

After signing up for the challenge he undertook a thorough review of Darlington Building Society's website and made a number of recommendations he felt could make it more user-friendly and attractive to customers, particularly those from overseas.

A number of his recommendations have now been implemented. He said: 'I was able to demonstrate my own experience of applying to Teesside University from Bangladesh and how easy it was to navigate the University's website.

'I made several suggestions about things they could do to make it easier for people to apply for mortgages and other products offered by the building society. These included mobile optimisation, more complex coding and a better online customer service experience.

'Presenting my findings to the board was quite nerve-wracking as there were some very senior people there with a lot of experience. However, what I have learnt during my course gave me the necessary knowledge to make the suggestions. It was a fantastic feeling to know that the board appreciated my ideas.'

Colin Fyfe, Darlington Building Society Chief Executive, said: 'This was an innovative concept to bring digital thinking and skills into our business operations and we are delighted that the universities and students approached it with such enthusiasm. We hope to build on this in the next academic year.'

Siobhan Fenton, Associate Dean (Enterprise and Business Engagement) at Teesside University's School of Computing, said: 'We place employability at the heart of our learning experience, so this was a fantastic opportunity for students to work on a live project for a major employer in the region. We are delighted that Mozammel was able to utilise the skills he has learned at Teesside to offer practical advice and solutions to senior members of Darlington Building Society.'

David Carroll, Managing Director at XQ Cyber, added: 'The North East produces around 1,000 graduates in cyber security and closely related computer science disciplines each year. Dynamo's CyberNorth initiative aims to engage and, hopefully, retain more of this talent within the region. We're very grateful to Colin and the team at Darlington Building Society for the opportunity to do so.'

Such has been the success of this year's University initiative that organisers are planning to host a similar challenge next year.

21 July 2017
In the News
Building society safe in Mozammel's hands
Evening Gazette (Teesside),08/08/2017
TEESSIDE University student Mozammel Sajib is helping Darlington Building Society improve its security systems.
---
Finalists revealed in the 17th annual BIFM Awards
BIFM (Web) 20/07/2017:FM World (Web) 20/07/2017:Facilities Management Journal (Web)21/07/2017:FM World (Web)21/07/2017
Darlington Building Society (DBS) challenged students from Sunderland, Teesside, Durham, Newcastle and Northumbria Universities to enhance their digital security system.