News
Students' digital skills offer fresh perspective to a global sports brand
A team of talented Teesside University students has been praised for the work they have carried out to improve the digital presence of a multinational sports company.
More information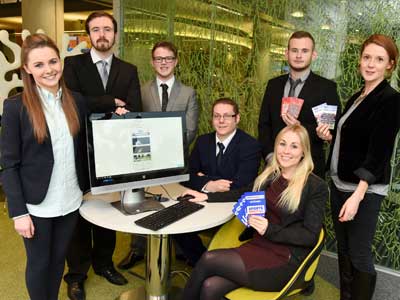 Teesside University students Michael Barley, Dawn McBeath, Richard Bairstow, Jordan Rundle with Sports Direct staff Jo Mclaren, Charlie Wilber and Emily Hilditch.
---
The students from the University's School of Computing, Media & the Arts were tasked with creating a mobile app for Sports Direct as part of their final year module.

Designed to provide an experience of what it is like to work with a real life client, the students had to pitch their ideas and carry out consultancy work with Sports Direct, before going away and designing the app using the methodology they had learnt during their degree course.

Michael Barley, 22, Dawn McBeath, 31, Richard Bairstow, 30, Jordan Rundle, 21 and Luke Robinson, 22, competed against fellow teams of students and were chosen as the winners.

During the project they worked alongside Front End UI/UX Designers for Sports Direct Emily Hilditch and Charlie Wilber to help develop the Sports Direct app.
The team each received a £100 Sports Direct voucher, as well as the opportunity to have their work used by the global sports brand.

Dawn, who is studying BSc (Hons) Information Technology, said: 'It has been a fantastic project and we are delighted to have won. The team worked really well together and to be given the opportunity to work on a live project for such a big client is extremely rewarding and also enhances our CVs.

'We were all really engaged from the beginning as this is the kind of work we hope to do when we complete our degrees.'

Richard, who is studying BSc (Hons) Web and Multimedia, added: 'I think everybody has thrived on this module. This is the best starting point for our careers – to have our work recognised by a world-wide brand.'

Sports Direct are delighted with the work carried out by the students and say it has offered them a new perspective for their digital platforms.

Jo Mclaren, E-Commerce Manager at the company, said: 'It has been great to get fresh ideas from young people who are at the start of their careers. The students are extremely professional and the work they have produced has exceeded all of our expectations.'

Emily Hilditch graduated from Teesside University with a BSc (Hons) Creative Digital Media in 2014.

She completed a similar project in her final year and said: 'Projects like this are extremely beneficial as they provide an insight into how the industry works and what is involved. I used the experience to help me with my interview when applying to work at Sports Direct.'

Charlie Wilber added: 'It has been an invaluable experience for the UI/UX team as it has allowed us to collect insightful data from focus groups made up of our target demographic. It will help us to make decisions more effectively and efficiently as we now possess credible evidence to develop our app further.'

Myriam Mallet, Senior Lecturer in Digital Media at Teesside University, said: 'The students showed a tremendous amount of commitment and were able to demonstrate their skills to the client. This is an example of the kind of work our students can produce and I am sure it will be extremely beneficial for them when they are applying for jobs in the future.'

20 December 2017
In the News
Teesside University - Students' digital skills offer fresh perspective to a global sports brand
4 Traders (web) 21/12/2018; North East Chamber of Commerce, 22/12/2017
The students from the University's School of Computing, Media & the Arts were tasked withcreating a mobile app for Sports Direct as part of their final year module.