News
GNAAS deliver trauma training to student paramedics
Doctors and paramedics from the Great North Air Ambulance Service (GNAAS) delivered trauma training to the paramedics of tomorrow.
More information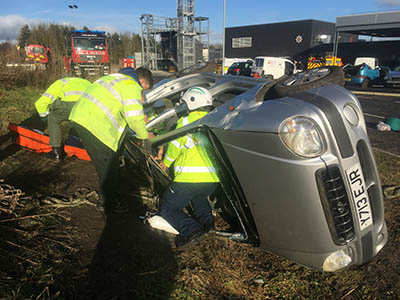 Student paramedics receiving training from the Great North Air Ambulance staff
---
Approximately 50 second year paramedic students from Teesside University got a taste of the challenging scenarios faced by the GNAAS aircrew on a regular basis.

The training was held at County Durham and Darlington Fire and Rescue Service's training centre in Bowburn and gave students the opportunity to gain some practical hands-on experience.

Paul Burnage, GNAAS paramedic, said: 'What we are trying to do is increase the critical thinking skills of the student paramedics and educate them on how to take care of a trauma patient.

'We've got a vast array of knowledge and experience within GNAAS and a number of subject matter experts so we can pass that knowledge on to future paramedics and that's great.'

A range of different scenarios were set up for the students including extrication of a patient from a vehicle involved in a road traffic collision, patients with traumatic brain injuries, patients with catastrophic haemorrhage and paediatric patients.

Speaking at the training day, Chris Brown, a student paramedic said: 'Today's been a real insight into the trauma that we might potentially have to go to as a newly qualified paramedic. It's illustrated the key importance of forward thinking, and how that affects care of patients that we're going to see.'

Another student paramedic, Danielle Bestford, said: 'The scenarios are really realistic so it's obviously going to benefit us when we go out in the future. It reinforces everything we've been learning as well.'

This was the third trauma training day ran by GNAAS and there are already plans in place to run another one next year.

GNAAS wished to thank the fire service for its support in running the training sessions.

31 January 2018
In the News
GNAAS Give Training to Future Paramedics
Newton News Online (Web)07/02/2018:
Approximately 50 second year paramedic students from Teesside University got a taste of the challenging scenarios faced by the GNAAS aircrew on a regular basis
---
GNAAS Give Training to Future Paramedics
Newton News, 02/02/2018:
Doctors & paramedics from the Great North Air Ambulance Service this week delivered trauma training to the paramedics of tomorrow. 50 second year paramedic students from Teesside University took part
---
Trainee paramedics receive vital training
Durham Times, 31/1/2018; Northern Echo, 31/1/2018
Approximately 50 second year paramedic students from Teesside University got a taste of the challenging scenarios faced by the GNAAS aircrew on a regular basis