News
From student to scholar: English degree leads to publication
Studying English at Teesside University led a talented student to see her work published by a major publishing house.
More information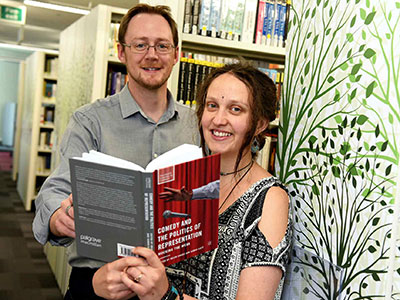 Dr Rob Hawkes and Tracy Casling
---
Tracy Casling, 34 from Norton, was proud to have a chapter included in Comedy and the Politics of Representation: Mocking the Weak (2018) published by Palgrave Macmillan.
The volume, edited by Tracy's former lecturers Helen Davies and Sarah Ilott, explores the way comedy can be used to critique, undermine or reinforce stereotypes.

Examining representations of the working class, Tracy argues that, unlike many comedies, 'This Is England '90' (2015) does not demonise the working class. Her chapter comments on contemporary politics and neoliberal ideologies introduced by Margaret Thatcher, Prime Minister of the United Kingdom from 1979 to 1990.

Tracy, who studied BA (Hons) English Studies, started the research in the second year of her degree. As part of the course, Tracy was asked to produce a research paper around representation and cultural identity, which she then presented at a student conference.

After encouragement from a final-year student, Tracy decided to take her work further and submitted an abstract for the book. Tracy credits the broad range of topics on her degree course with her success.

'Unlike many literature degrees, English at Teesside University allows you to explore many different pathways,' Tracy said.

'I was surprised at how much I learned, not only about literature, but about politics, philosophy, film, media and television. I was able to focus much of my work on the degree around film and television. I would advise anyone considering studying English at Teesside to do it – you will gain broad experiences and you are able to take your research into a variety of areas.'

Dr Rob Hawkes, Principal Lecturer in the School of Social Sciences, Humanities & Law, also has a chapter in the edition which looks at 'Stewart Lee's Comedy Vehicle' (2009-2016) and the way his comedy asks questions of the trust of the audience.

As module leader on the course, Dr Hawkes was particularly delighted with Tracy's accomplishment.

'We are incredibly proud that Tracy has published work. Many don't publish their work until they reach PhD level, so it is a great achievement that Tracy's work from the second year of her degree has been published,' he said.

'It is a good example of how the English Studies and English Studies with Creative Writing degrees at Teesside go beyond the traditional English literature degree. We encourage students from the beginning to think of themselves as professional scholars, helping them to develop academic skills in tandem with transferable skills they can take to their future career.'


10 September 2018
In the News
From student to scholar: English degree leads to publication
North East Chamber of Commerce, online, 19/09/201
Studying English at Teesside University led a talented student to see her work published by a major publishing house.