Welcome
See also...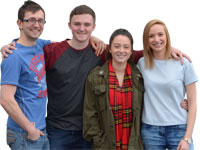 ---
---

Our Students' Union has twice won Students' Union of the Year.
Read reviews on Whatuni website
Multi award-winning
2011 and 2010 Best bar none runner up in Middlesbrough and 2009 overall winner and best venue - The Hub. Gold standard in the National Union of Students (NUS) Sound Impact Awards 2012 for efforts to make the Students' Union and University greener.
Terrace bar
The Students' Union bar and restaurant is the place to be for students day or night with a wide range of beverages, soft and alcoholic drinks plus delicious hot food, first rate customer service , big screen sport, pool tables, video games and a resident DJ on selected nights.
The Hub
This modern, multi purpose and 1,000 capacity venue is home to a huge range of student and external events including freshers fairs, University open and welcome days, club/theme nights, live music and comedy.
There's also massive one off events featuring some of the biggest names in entertainment - previously Professor Green, DJ Fresh, Tinchy Stryder, Example, Calvin Harris, Scott Mills and Greg James to name just a few. It's an increasingly popular place for all kinds of private events such as award presentations, birthday and anniversary parties and can be hired out.
Find out more about hires.
The Link
The Link is the Students' Union's one stop shop for free, independent help from fully qualified and professional Welfare Advisers with problems and issues around finance, housing, immigration and much more. There's also a great range of part-time vacancies designed to fit around timetables while our Academic Advisers are on hand with support should students encounter issues with the academic side of student life and, where appropriate, will help should a student face disciplinary action from the University.
Student representatives
There are a total of 30 student representatives across the University. Each School has two welfare representatives and three school representatives. Both provide support and guidance to students in a variety of areas, helping to resolve issues and ensuring that they are connected with the appropriate support services and can seek out opportunities for improvement.
More about school representatives on the Students' Union website
Welcome week
Every September we hold information fairs to welcome new and returning students. It's an opportunity to join a club, society or volunteering group, pick up your NUS Extra Card and meet fellow students.
National Union of Students Extra card
You can register for your NUS Extra Card now. It costs £12 a year and entitles you to:
massive savings on the high street
huge discounts on travel
exclusive offers at the Students' Union.
Find out more about how to get your card and all the benefits on the National Union of Students Extra website.
Your TUSC (Teesside University Smart Card) gives you access to the Students' Union on an evening and weekends. It also entitles you to vote in all Students' Union elections.