The bioeconomy is the production of renewable biological resources and their conversion into food, feed, energy, chemicals, pharmaceuticals and other materials and is estimated to be worth £220 Billion GVA in the UK alone. The Government's Industrial Strategy has ambitious targets to double its size by 2030.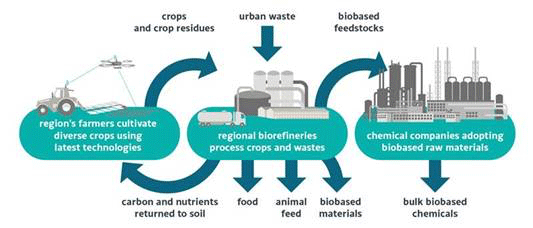 This represents a major economic opportunity for the UK and particularly for the North of England, which has world-class bioeconomy assets. THYME aims to build on these to boost the region's economy, create jobs and deliver major environmental benefits for the region and for companies operating in the bioeconomy.
THYME is delivering five types of activity
Proof-of-concept and challenge-fund based projects combining expertise from at least two of the university partners and one industrial partner
Secondments between the institutions to develop change agents who understand and promote exchange and collaboration.
A toolkit for bioeconomy partnerships, with best practice guides, template research and IP agreements, outreach materials and case studies.
A programme of workshops, boot camps and resources to encourage entrepreneurship and innovation best practice
Cluster development activities to drive collaboration and sharing of ideas, expertise and experience through special interest groups, pitch fests and networking events.
If you are a Teesside University staff member or wish to collaborate with a Teesside academic on a THYME project, please email business@tees.ac.uk or call 01642 384068