Course overview
Using a problem-based learning and practical skills development approach, you will gain an advanced understanding of: assessment, diagnosis and rehabilitation of a range of health and sports related conditions and develop these skills through supervised clinical experience. You will explore evidence-based practice, therapeutic interventions and rehabilitation combined with physiological, biomechanical and psychosocial factors, evaluating how they impact upon or are affected by health and exercise, sports injury, treatment and rehabilitation and you will apply your learning from these modules to conduct a self-initiated research project.

Student-led Clinics
You gain hands on experience in massage, injury assessment, diagnosis, treatment, and rehabilitation in our specialist sports clinics on campus. You work under direct supervision from our experienced clinical supervisors and gain real-life experience working with staff, students, and alumni of the University. You have the opportunity to put into practice the skills that have been taught during the academic sessions.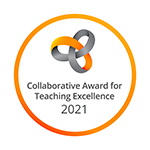 Teesside University Sports Therapy Clinics won the Collaborative Award for Teaching Excellence (CATE) 2021, which recognises and rewards collaborative work that has had a demonstrable impact on teaching and learning. Introduced in 2016, the scheme highlights the key role of teamwork in higher education. The clinics form a strategic part of the BSc (Hons) Sports Therapy and Rehabilitation course with students working in them across all three years of their studies.
Course details
Practical experience is an essential element of the programme and over the course of the programme you will attain 400 hours of supervised clinical experience in a range of settings. You will benefit from hands-on experience with local sports teams. Examples of prior experiences are with Darlington Rugby Club, Middlesbrough FC and Hartlepool FC, Aquatic Rehabilitation as well as University teams, the nearby MOD Infantry Training Centre and within gyms and University Massage and Sports Injury Clinics.
Course structure
Year 1 core modules
Advanced Inquiry in Sport and Exercise
This module is designed to develop further your understanding of and skills in research methods. During the course of the module you will explore the major underlying principles that you need to understand in order to become critical consumers of research. By developing your understanding of research methods and skills in judging the adequacy of published work the module will also help to prepare you to engage in the planning and execution of research projects in your areas of practice.

Assessment will be ICA: 4,000 words (60%). ECA Individual e-Poster presentation (40%) with a 10-minute viva via Skype. Poster submitted online end of year 2.
Applied Physiology for Rehabilitation
You will gain an applied approach to the physiological principles underpinning the management of injury and rehabilitation. It will introduce you to the applied effects of sport and exercise participation on the physiological systems with particular focus on the implications of pathology considering, physiological, nutritional, social and psychological perspectives
Clinical Assessment and Rehabilitation
This module is designed to enable you to acquire, disseminate, apply, and critically analyse knowledge and skills requisite to the assessment and rehabilitation of the sports person. You will have the opportunity of evaluating current issues and the evidence underpinning rehabilitation protocols, the assessment of the injured sports person, and rehabilitation practice. You will plan, implement and conduct exercise-based rehabilitation programmes that are appropriate to the needs of the patients at all levels and stages of the sporting and injury spectrum.
You will acquire, disseminate, and critically analyse the knowledge and skills requisite to the management of musculoskeletal conditions including massage, peripheral and spinal injury problems and injuries. The evidence and clinical use of soft tissue massage and treatment techniques, peripheral and vertebral mobilisation techniques in relation to the mechanisms and pathophysiology of spinal injuries and problems will be explored through online lectures and group discussion and group tasks, practical elements will be explored during seminars. Treatment techniques will be developed through interactive workshops.
Year 2 core modules
Rehabilitation for Special Populations
You will gain an understanding of the management and rehabilitation of complex conditions and multiple pathologies that you may expect to encounter not only in sport but within general populations. You will be able to apply their basic knowledge of anatomy and physiology to the rehabilitative management of chronic conditions, musculoskeletal pathologies and traumatic injuries within sporting and non-sporting contexts.
Sport and Exercise Research Project
This module is designed to enable you to apply your learning from previous modules to conduct a substantial self-initiated research project. The project will be conducted under the supervision of your academic supervisor.
Modules offered may vary.
How you learn
This is a two year full-time course. Your contact time at the University main campus is one day a week in year 1. In year 2 this contact is one half day to enable you to complete clinical experience. You are required to carry out 400 hours of clinical experience, which is completed in two modules (one each year). This can be a mixture of internal and externally arranged negotiated hours within University led clinics and through external providers.

A wide variety of teaching strategies appropriate to each module is used, including formal lectures and tutorials, seminars, online learning, practical workshops, problem-based learning, work-based learning, guest speakers and student-led research projects.

You have the opportunity to develop continuing professional development throughout all modules on the programme. The delivery of modules is via blended learning, which uses a combination of face-to-face learning and online support. The modules have a site in the University's virtual learning environment (Blackboard), which adheres as a minimum to the University's Threshold Quality Standards.

How you are assessed
Assessment methods include assignments, critical review, presentations, portfolios and practical examinations.

These methods allow you to demonstrate a critical and systematic understanding and application of the relevant curriculum. Professional and key transferable skills are also developed through these assessments. You are required to undertake appropriate research, using the skills developed in the core modules and this provides the impetus for the development of your project proposal. The sport and exercise research project module gives you the opportunity to demonstrate an appropriate standard of research and enquiry into a specialist area, selected by you, displaying an original and/or compelling study or review of that area.

Entry requirements
Applicants should normally have a good honours degree in sport science or a related area.

An enhanced criminal history (DBS) check may be required for certain modules or placements which involve working with children and/or adults at risk. Where an enhanced DBS check is required, applicants will cover the cost of these checks which can only be processed through the University.
For general information please see our overview of entry requirements
International applicants can find out what qualifications they need by visiting Your Country
Employability
Career opportunities
Typically graduates are employed as sports therapists and sports rehabilitators. However, you are also well prepared for employment in related areas including the health and fitness industry, sport development, research and sport science support.
Information for international applicants
Qualifications
International applicants - find out what qualifications you need by selecting your country below.
Select your country:
Useful information
Visit our international pages for useful information for non-UK students and applicants.
Talk to us