Course overview
Sports facilities tour
World Champion Boxer and Teesside University student Savannah Marshall – meet the Teesside Sport and academic staff who support her.
You help manage pain and dysfunction in sporting and clinical environments for athletes and sedentary people.

The course is accredited by the British Association of Sports Rehabilitators and Trainers (BASRaT), and there are opportunities to complete other vocational certified awards including pre-hospital trauma and gym-based instruction.

The course is a mixture of vocationally relevant skills with academic underpinning, giving you the latest evidence-based practice to facilitate the skills to become a confident, professional and successful rehabilitator.

You develop skills in sports massage; hands-on anatomy; manual diagnostic testing; gym-based conditioning and Olympic lifting; biomechanical and physiological screening; land and pool-base rehabilitation; peripheral and spinal mobilisations and trauma care. Academically, you develop key writing, report and statistical skills, while developing a scientific research ability.

At Teesside you are supported to develop your working practice via internal placements and key links with external professional football, rugby and clinical/health-based placements, giving you exposure to high level industry specific knowledge and facilities. You gain valuable experience in a range of professional environments, from internal sports massage clinics, rehabilitation clinics, pitch-side first aid, external sports teams and musculoskeletal practice.

Our meaningful industry relationships see employers access our facilities and knowledge base because they see it as pivotal to successful outcomes within industry. Your academic team are research and industry active, meaning you benefit from live case research, and cutting-edge developments in sports therapy and rehabilitation. This ensures you develop an evidence-base practice approach to your working practices, meaning you follow the science to help their patients safely and effectively.
Top reasons to study this course
Industry-standard facilities include our hydrotherapy pool, biomechanical suite, clinical practice setting, sports injury clinic, strength and conditioning spaces and physiology laboratories.
Academic team are research and industry active, many with practitioner backgrounds.
Wide range of practice experience ensures you are work-ready.
Accreditation by the British Association of Sports Rehabilitators and Trainers (BASRaT), with membership offering the ability to work in the United States of America, as well as the United Kingdom.
93% of BSc (Hons) Sports Therapy and Rehabilitation students were satisfied overall with their course (National Student Survey 2022, tees.ac.uk/source).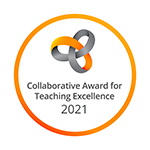 Teesside University Sports Therapy Clinics won the Collaborative Award for Teaching Excellence (CATE) 2021, which recognises and rewards collaborative work that has had a demonstrable impact on teaching and learning. Introduced in 2016, the scheme highlights the key role of teamwork in higher education. The clinics form a strategic part of the BSc (Hons) Sports Therapy and Rehabilitation course with students working in them across all three years of their studies.
Course details
Course structure
Year 1 core modules
This module introduces the student to aspects of clinical, functional and surface anatomy. Knowledge of the musculoskeletal system and its function is fundamental in all aspects of sports therapy and rehabilitation. This module will explore anatomy and human movement through interactive lectures that will introduce key concepts and theory followed by practical-based workshops that explore and enhance the students' understanding.
Performance Analysis (Physiology & Biomechanics)
This module introduces students to a series of competency-based scientific methods for assessing human performance. This involves assessing the physiological systems of the body, such as the cardio-respiratory system, skeletal muscle and the metabolic system, and investigating the biomechanical principles underpinning movement technique. Seminars and workshops will be used to introduce and discuss important theories and background knowledge, which will be blended with laboratory sessions that are designed to teach students sport science laboratory skills such as taking blood, measuring oxygen uptake, monitoring heart rate, and movement analysis using 3D motion capture and assessing ground reaction forces.
Professional Skills for Practice
This will aim to expand the students' knowledge of professional issues in health care and develop interpersonal and study skills that students will rely on throughout their undergraduate degree and their transition into industry. The module will highlight and explore key concepts in practice and professional conduct and aim to expand the students' knowledge of how these effect clinical practice. As part of this module students will gain access to patients in the in-house massage clinic under the supervision of the Clinical Educators. This hands-on experiences will provide students with the opportunity to implement the skills developed in other modules.
The module is designed to develop the students' skills of diagnostic examination assessment and immediate treatment of sports injuries and is the first step in the development of the professional skills required as a practitioner in the field of sports therapy and rehabilitation. It comprises the role of the practitioner in diagnosis, understanding and prevention of common musculoskeletal injury.
This module is designed to develop the student's theoretical understanding and practical application of sports massage techniques. Lectures will introduce students to key theoretical concepts and will create topical discussion regarding the application of the techniques in the sporting environment. Practical-based workshops will explore and expand on this theory and provide the students with the opportunity to practice and develop soft tissue massage techniques. Students will practice on peers under the supervision of the lecturing team to ensure that they are safe and effective in their practice. These essential skills will enable the student to commence clinical experience and collate placement hours in the massage clinic.
Year 2 core modules
The module is designed to further develop skills of first-aid, assessment and acute injury management introduced in Sports Clinical Assessment, Sports massage and Clinical Experience at Level 4. The module will delivered through a combination of lectures that will introduce key concepts and theory and weekly seminars. Practical-based seminars will develop the student's problem-solving skills and patient handling. Students will be provided with the opportunity to practice these skills on their peers during the seminars and will learn additional elements including: kinesiology taping and strapping techniques; indications for and application of electrotherapy: ultra sound, tens and interferential therapy.
The aim of this module is to equip students with enough knowledge of the relevant aspects of research methods to develop a research proposal. The research proposal must be ethical and realistic. With this aim in mind students will be introduced to the key elements of quantitative and qualitative research design, methods and measurement as well as a variety of data analysis techniques that will enable students to answer different types of research questions.

Health Factors in Physical Activity and Sport
This module will aim to develop student's breadth of awareness for special populations and the nutritional and psychological demands on injured/uninjured athletes. The module will enable students to widen their understanding of more complex issues surrounding rehabilitation. The module will combine on-line learning with weekly lectures and seminars. Students will develop basic knowledge of assisting special populations and athletes with nutritional and psychological needs, within rehabilitation setting parameters.
Orthopaedics and Trauma Management
he aim of the module is to facilitate multidisciplinary knowledge, understanding and insight into the principles, concepts, terminology underpinning pathologies and injury management for first aid, common orthopaedic conditions and traumatic injury. This module will offer the student the opportunity to synthesise and critically reflect on the theoretical knowledge and consider the role of the Sports Therapist and Rehabilitation in the management of patients with traumatic injuries through a problem-based learning approach. Weekly lectures will be utilised to provide a forum to discuss important theoretical concepts. Lectures will be supported by weekly seminars where students will be provided with the opportunity to advance their trauma management skills and develop their clinical reasoning and problem solving.
Peripheral Mobilisations and Advanced Soft Tissue Techniques
The module is designed to introduce the students to advanced manual therapy techniques that will further develop the basic skills acquired at Level 4. The module content will include advanced forms of stretching such as neuromuscular techniques, muscle energy techniques and proprioceptive neuromuscular facilitation; advanced soft tissue techniques such as soft tissue release, trigger point therapy and deep transverse frictions; and peripheral joint mobilisation and manipulation. Students will apply these techniques in the context of sports related soft tissue and peripheral case studies during practical based seminars where students will be provided the opportunity to practice techniques on their peers under the supervision of the module team. The module will focus on the examination and assessment of soft tissue and peripheral joints to enable students to evaluate signs and symptoms and select appropriate treatment modalities.
The module will give students the confidence and practical skills to be able to formulate and apply sport specific progressive rehabilitation courses in relation to the injured athlete. The importance of therapeutic exercise in the rehabilitation of the injured athlete is stressed through a practical teaching strategy and problem-solving approach. The module will delivered through a combination of lectures that will introduce key topics and interactive practical workshops. In the practical workshops, students will be encouraged to participate in practical session and develop their skills of progressive rehabilitation, this will be performed in both land and gym based settings and the University's hydrotherapy pool.
This is a 20-credit module.
Final-year core modules
The content of this module is designed to improve the student's understanding of the processes involved in setting up a self-employed business, within their discipline. It is also designed to improve understanding of business plans, cash-flows, marketing, taxes, accounting and leadership.


Practical experience is an integral component of this degree programme. You are placed in a sports injury environment, where you meet the complexities of real clinical situations. You retrieve and synthesise material previously learned in the University setting and integrate it with new information gathered in relation to the patient. You apply practical, academic and other key skills appropriately, with the whole process organised through the sequence of data collection - including patient examination and assessment, interpretation, synthesis and evaluation. Your sound clinical reasoning must be justified from a theoretical underpinning and appreciation of evidence. This is followed by your application of skilful and safe treatment and inter-personal strategies.
This module is designed to enhance your clinical skills. You carry out evidence-based problem solving and clinical reasoning approach to learning. You use the assessment, diagnostic, treatment and rehabilitation skills developed through the course to manage sport and health related injuries. Through reflection you evaluate the use of evidence based practice and the challenges of implementing this into clinical practice. You study major peripheral joints and carry out an in-depth critical approach to patient management, using skills learnt from previous modules. Recent controversies within sports medicine is discussed and critiqued including closed kinetic or open kinetic chain activity, accelerated v's traditional rehabilitation programmes and Platelet-rich Plasma. You evaluate and put into practice the principles of sport specific rehabilitation protocols, functional progression, functional musculoskeletal screening and the sensitivity and specificity of special tests.
This is your opportunity to conduct your own in-depth scientific investigation in an area of your choice, within the field of sport and exercise. With guidance from your supervisor, you will use scientific methods to explore interesting research questions. Your aim is to discover new knowledge to support the progress of applied and theoretical work in sport and exercise.
You further develop the manual therapy, assessment and treatment skills acquired at levels 4 and 5 to enable you to apply these in the context of sports-related vertebral problems. You focus on the examination of the vertebral column to enable you to evaluate signs and symptoms, and to identify the relevance of neurological symptoms and signs. You further develop spinal assessment skills, spinal mobilisation and manipulation treatment techniques, and apply these skills to the management of sports-related vertebral problems.
Modules offered may vary.
How you learn
The programme employs a diversity of learning and teaching methods including: lectures, seminars, problem based learning, workshops, laboratory sessions, independent research projects. All modules on the programme are delivered via blended learning, which uses a combination of face-to-face learning and online delivery. Each module has a site in the University's Virtual Learning Environment (Blackboard), which adheres as a minimum to the University's Threshold Quality Standards. Where applicable modules include electronic submission, assessment and feedback.

Timetabling information
As a full-time student your timetabled hours are between Monday to Friday, 9.00am - 6.00pm. On Wednesdays the latest you will be timetabled is until 1.00pm. Hours of attendance vary between 12 hours and 20 hours per week. Part-time undergraduate students are required to attend during the same days and times as full-time students but for only a proportion of the time, dependant on the modules being taken. Module choices are discussed with course tutors during the enrolment and induction period. Further details are automatically sent to applicants due to enrol this year.
---
Our Disability Services team provide an inclusive and empowering learning environment and have specialist staff to support disabled students access any additional tailored resources needed. If you have a specific learning difficulty, mental health condition, autism, sensory impairment, chronic health condition or any other disability please contact a Disability Services as early as possible.
Find out more about our disability services
Find out more about financial support
Find out more about our course related costs
Entry requirements
Entry requirements
A typical offer is 88-112 tariff points from at least two A levels (or equivalent) - one should be in a sport, science or PE subject. You must also have GCSEs in English, maths and science at grade 4 (grade C) or equivalent. We recommend an Access course if you're a mature student.

An enhanced criminal history (DBS) check may be required for certain modules or placements which involve working with children and/or adults at risk. Where an enhanced DBS check is required, applicants will cover the cost of these checks which can only be processed through the University.

For general information please see our overview of entry requirements
International applicants can find out what qualifications they need by visiting Your Country
---
You can gain considerable knowledge from work, volunteering and life. Under recognition of prior learning (RPL) you may be awarded credit for this which can be credited towards the course you want to study.
Find out more about RPL
Employability
Work placement
You are required to complete a CPD portfolio which is an integral part of the programme to enhance your employability skills and help you to meet professional body requirements.
Career opportunities
You have numerous options available to forge a career. Becoming an accredited member of BASRaT you can work in professional sport, clinical practice or open your own practice.

Through registration with governing bodies, you can seek careers specifically within the NHS, Ministry of Defence and numerous sports environments, including rehabilitation, sport, health and exercise.

Pursuing an academic route, graduates can consider master's and PhD-level study, go in to teaching or research.
Information for international applicants
Qualifications
International applicants - find out what qualifications you need by selecting your country below.
Select your country:
Useful information
Visit our international pages for useful information for non-UK students and applicants.
Talk to us