Creative graduates gathered in the capital for ExpoTees London
Teesside University graduates rubbed shoulders with industry leaders while showcasing their world at creative studio Framestore in London.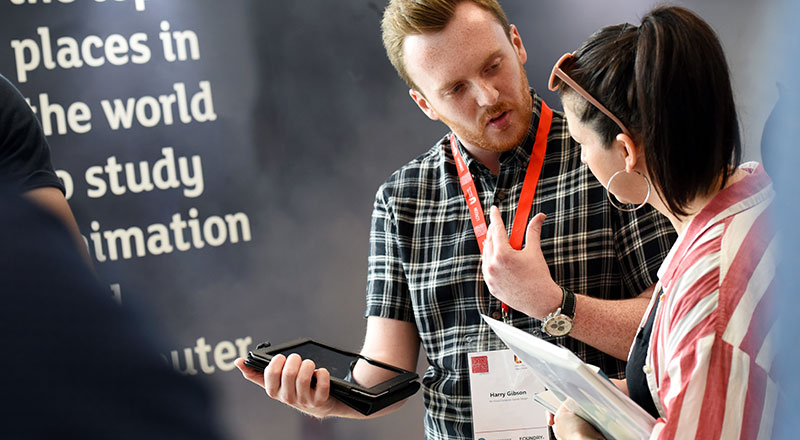 The University's annual ExpoTees London event, held this year in June, provided an opportunity for recruiters to meet talented 2019 graduates and talk about their work.
The graduates showcased their portfolios and promoted their ideas to recruiters from the games, animation and immersive industries, while taking the opportunity to network with industry professionals and get tips on the interview process and careers advice. The work screened showcased animation, visual effects, concept art, programming and games.
ExpoTees London also played host to 'Morphogenetic Creations', an exhibition of computational art by Andy Lomas, who previously had a career in CGI in television and films, working on Avatar, Walking With Dinosaurs, Over the Hedge, The Matrix Reloaded and The Matrix Revolutions.
Andy is a Teesside University alumni, graduating in 1992 from the MSc Computer Aided Graphical Technology Applications. He is also former head of computer graphics at Framestore.
Andy's art practice explores the use of computer algorithms to simulate natural processes, resulting in surprisingly rich complex alien but familiar forms. His work has been exhibited internationally at venues including the V&A, the Pompidou Centre, the Los Angeles Metropolitan Museum of Art, SIGGRAPH, the Science Museum and the Royal Society.
ExpoTees London provides a unique opportunity for our graduates to exhibit their work
Justin Greetham, Senior Lecturer in Visualisation in the University's School of Computing & Digital Technologies, said: 'ExpoTees London provided a unique opportunity for our graduates to exhibit their work at Bafta and Oscar-awarding winning creative studio Framestore while also being able speak to recruiters, producers and studio managers who are all part of the animation, vfx, games, immersive and concept art scene in London.
'This year we were incredibly excited to host the work of computational artist Andy Lomas, considered by many as a pioneer in the field of computer graphics and who's work exists at the boundary between art and science.'
Students exhibiting in previous years have gone on to work on illustrious film and games titles for some of the industry's top companies, with many citing ExpoTees London as key in their career development.
---