Campaigner shares story with nursing students
Nursing students at Teesside University heard from campaigner Paula McGowan who has been the driving force behind moves to introduce specialist training for health clinicians.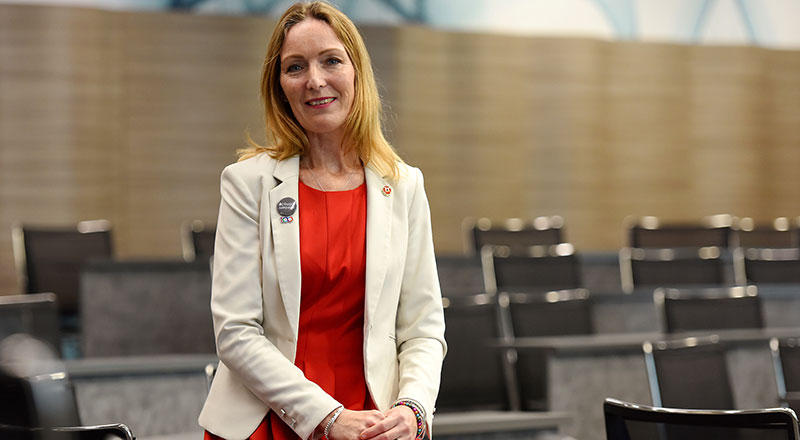 As a result of bacterial meningitis as a baby, Paula's son Oliver suffered a stroke which resulted in him having high functioning autism, a mild learning disability and focal partial epilepsy.
Paula said: 'Oliver was a bright, healthy and fit young person. He was representing his country for England FA football and was a registered athlete in training to become a Paralympian. Oliver was ranked third best in the country for 200 metres sprint. He passed his GCSE exams at school and was a school prefect.'
Tragically Oliver died aged 18 as a result of being prescribed antipsychotic drug, despite his parents warning that he was intolerant and sensitive to all antipsychotic medications.
Details from Oliver's inquest highlighted a lack of understanding of autism and learning disability in relation to Oliver's care, which led Paula to launch a campaign calling for mandatory specialist autism and learning disability training for health and social care workers. She has since welcomed the Government's announcement on moves to introduce mandatory training.
Paula said: 'For the last year I have been working with the Department of Health and Social Care, sometimes over 13 hours a day, to establish training in learning disability and autism for all health and social care workers, including of course doctors and nurses.
'This followed a petition to Parliament signed by 52,000 people which received cross-party support. In November 2019 it was announced that mandatory training will be introduced, with £1.4m being invested to develop and test the new training package.
'I was determined that the training would be mandatory and all NHS staff would follow a Common Curriculum in order to ensure everybody was following a quality framework that was of the same standard for everyone.'
It has been really pivotal for Paula to visit the University and share her inspirational story with our nursing students, as part of their taught module
She added: 'On a personal level it is very important to me that the training will be named after Oliver. Everybody who does the training will see his face and name, which personalises and adds real meaning to the training. I hope his legacy will be to challenge subconscious bias and ensure that real change occurs.'
Paula was invited to speak to nursing students as part of the experts by experience module of their degree studies. She said: 'It has been important to hear from the students, to listen to their views which I can then help to empower through the conversations I have with those who can make a change.'
Josh Hodgson, Senior Lecturer, Nursing (Learning Disabilities) in the University's School of Health & Life Sciences, said: 'Paula has been the driving force behind the introduction of the mandatory learning disability and autism training requirement for all health and social care workers.
'It has been really pivotal for Paula to visit the University and share her inspirational story with our nursing students, as part of their taught module. Nursing students from different disciplines across the university were able to hear Paula speak and her presentation has been recorded for use throughout our course.'
He added: 'Students took to social media and sent emails to academic staff, stressing how moved and influenced they felt due to Oliver's campaign which for us demonstrates how much of an impact this shift in culture is going to have, especially with pre-registration students.'
---