Samuel Cadd
After his chemistry degree, a masters was the next step for Samuel.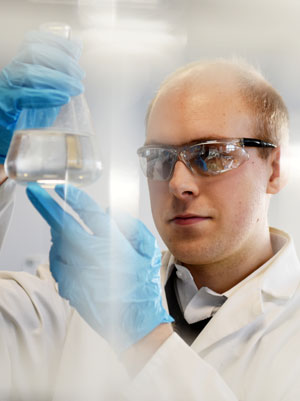 MSc Forensic Science
'The teaching on my course was excellent and the number of visiting speakers and experts was impressive.'
I wanted to specialise in forensic science following my undergraduate course in chemistry and a masters was the next step for me. When researching forensic science courses, Teesside University was recommended to me by academics at other institutions.

I chose Teesside University because of the excellent resources and facilities, the real-world experience and enthusiasm of the lecturers, the high quality teaching and the links the university has with other institutions and research organisations.

I enjoyed the content of the modules – I studied crime scene techniques, key court room terminology, law and the legal system. I also enjoyed learning how to apply my previous chemistry knowledge in a forensic context.

I really liked the services offered alongside my course at Teesside University and I made good use of the Students' Union for food and drink, as well as various clubs and societies. I was a member of the University's football and badminton clubs. I was also involved in the University's Crime Scene and Forensics Society, who organised a number of visits to interesting locations; and the Drama Society where I performed in several shows – acting on stage and performing in a band playing several instruments and leading the performance as the musical director.

Teesside University is close to Middlesbrough town centre, so I was within easy reach of a range of shops and often went out for lunch with course friends in the local pubs, restaurants and cafes in between lectures and lab sessions.

I stayed in university accommodation, which was conveniently located only a short walk away from lecture theatres, as well as local shops. From living in university accommodation, I made good friends across a range of courses.

I used the careers service during my time at Teesside University – this helped me to make decisions about what to do following the completion of my masters. As well as using the careers service I spent time using the library and associated resources.

As part of my course I spent three months carrying out research and I wrote my thesis detailing my research findings. I investigated two different formulations of a fingerprint enhancement reagent, Solvent Black 3 and carried out an in-depth comparison of the effectiveness of both on several thousand fingerprints. The work was a great success and has since been published.

When I graduated from my master's degree I began research for my PhD in Forensic Science, also at Teesside University. I am now working towards obtaining my doctorate in Forensic Science. As part of this I have worked as a part-time lecturer in Chemistry and Forensic Science at Teesside University, both at undergraduate and postgraduate level. My work as a lecturer gave me a great insight into the teaching side of my previous course and I came to understand the amount of preparation that goes into every lecture and practical session to provide high quality teaching. I have really enjoyed my lecturing role – I'm keen to educate and inform a new cohort of students who are just as motivated and enthusiastic about the subject as I am.

The experience I gained and the research I carried out as part of my master's degree, as well as the time and effort I put in to the qualification, were fundamental in securing my PhD place. I have repeatedly used the many skills I learnt throughout my course as part of my PhD research investigating fingerprints.

I would thoroughly recommend Teesside University and the MSc Forensic Science course to anyone, due to the enjoyment I had while studying. The teaching on my course was excellent and the number of visiting speakers and experts was impressive. Additionally, I had access to fantastic resources and equipment, including the crime scene house and the vehicle lab, where I spent time learning hands on practical techniques.