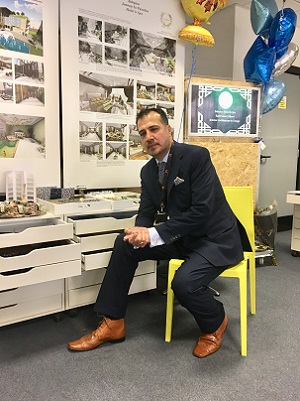 BA (Hons) Interior Architecture
Why higher education?
I've been excited by the idea of becoming a professional in the field of interior architecture and design since I came to the UK. I've always believed that a degree would provide me with the opportunities to do advance studies and be the stepping stone of my career.

Every module complements the others so well, it makes it difficult to pin down a favourite. My modules have become a solid base for my academic growth and new understanding of the field. I've learned so much since I've been here.

How did you find out about Teesside?
My wife advised me to apply to study at Teesside University because she was studying BSc (Hons) Crime and Investigation at the time and is now an LLM International law student here. It seemed to have the right kind of environment to nurture my interest and work towards my goals.
Why did you choose this subject?
On a personal level, I've gained experience working in a family construction company which I found very interesting. It helped develop my skills and encouraged me to study a degree in this field.

After I was diagnosed with chronic health conditions, I wanted to change my career path and interior architecture seemed like the thing for me.

What about the campus and local area?
The campus and services offered to students are available for everyone. If you ask for help, you can always find an answer and support.

I've been living in Middlesbrough for 20 years and, since I started studying at Teesside University, I've seen this town differently. I'm optimistic and delighted to be living here and a part of Teesside University.

What are your plans for the future?
Now I believe that I'm ready to face something more. I plan to continue my master's studies with the excellent team of tutors in interior architecture. I am delighted to be on the first MSc Advanced Home Futures course developed with TV architect George Clarke.