Paige McLeod
Paige is an international triathlete who is pursuing her dream of becoming an engineer.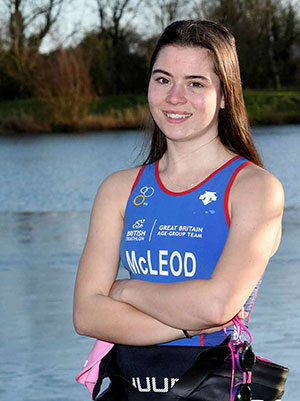 BEng (Hons) Civil Engineering (with Foundation Year)
'The elite athlete scheme has really helped me with my strength and conditioning in the gym, which shows in my results.'
Why engineering at Teesside?
I have always been interested in engineering and I have lots of friends and family who are in the industry. They inspired me to pursue a career in it.

I looked into apprenticeship opportunities, but I felt that university was better suited to me and what I wanted to achieve. I live in the area and I didn't want to move away from home, so Teesside University was perfect for me.

What do you think about the campus and services?
The campus is great – it has all the facilities I need. The library is especially useful and it's where I spend a lot of my time when I am on campus.
Tell us about the elite athlete scheme
As an athlete, I participate in triathlons and I compete at age-group international-level. Because I compete at this level, I'm on the elite athlete scheme at the University – it's great for me to further my sporting career. The scheme has really helped me with my strength and conditioning in the gym, which shows in my results. It's also helped massively with funding for the World and European Championships that I'm attending this year. I have met so many people at Teesside who share the same interest in sport, who I wouldn't have normally met without the scheme.
Have you been on a placement?
I was lucky to have two weeks' work experience with an engineering firm last summer, which gave me a great insight into the industry. I have another two weeks' experience planned for this summer.
What are your ambitions for the future?
I hope to graduate with the highest classification I can and get a job in the engineering industry straightaway. I also hope to get a podium position in the World and European Duathlon Championships this year.
Would you recommend Teesside?
I would definitely recommend Teesside University, as everyone is friendly and the support so far has been amazing. It's a great place to study. I would also recommend the foundation year I'm studying as it is a great way to get into the engineering industry if you don't have the A levels and grades you need for entry to the first year of a degree.