Matthew Wilkinson
Matthew has worked in the Police Service since 2006 and aspires to become an Inspector. He completed his degree by distance learning.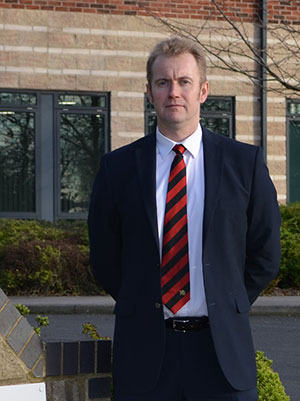 BSc (Hons) Policing and Investigation (Distance Learning)
'For anyone who is considering doing some distance learning, I would definitely advocate it and I would absolutely champion and recommend Teesside University.'
What does your job involve?
When I started my studies I was a Detective in West Yorkshire Police, but by the end of the course I had transferred to North Yorkshire Police. I am now a Detective Sergeant and work within the CID at Northallerton where I manage the investigation and detection of serious and complex crime, such as serious sexual offences, child sexual exploitation, serious violent crime and acquisitive crime. I target the organised crime groups, dangerous offenders, priority prolific offenders, working alongside the district's partner agencies and the neighbourhood policing teams.
Why Teesside?
I didn't take the traditional route into higher education. I left school after my GCSEs – at the time I aspired to join the police but decided I needed to gain some life experience to do this. I did a three day a week public service studies course alongside working in a factory, and later joined the Royal Air Force Police at 18.

I then joined West Yorkshire Police when I was 25 and undertook a Foundation Degree in Policing Studies as part of my probation. The university concept was really alien to me at the time but I found I really enjoyed it. I wanted to become a detective, so I decided in order to continue to develop and challenge myself that I wanted to consolidate my operational experience through a degree. Although I like all aspects of policing, I am passionate about the investigation of crime so when I saw that Teesside offered a BSc (Hons) in Policing and Investigation Studies it ticked all the boxes. Teesside also subscribed to the MOD Enhance Learning Credits scheme – due to my previous service in the military, it helped pay for a third of my fees.

Tell us about your course
My course was a distance learning course, delivered online. It suited my needs of being able to balance my studies alongside my work and home life and enabled me to access materials whenever I wanted. Despite it being a distance learning course, I still felt like a valued member of the University, just as a full-time student would. I had a study plan for each module to work around my shifts on my rest days, so I studied between 8 and 16 hours a week.

All of the topics were really relevant to my profession in the Police Service. I particularly enjoyed the modules on counter terrorism as this is arguably one of the biggest threats facing policing today. This module enabled me to build on my practical experience and previous academic courses I had taken.

How did you find juggling work, study and family life?
During the course, my fiancée and I got married, we moved house twice, had a baby and both transferred to North Yorkshire Police – so it was a hectic couple of years. What I would say is that everything is achievable providing you have a plan. Towards the end of the course things did get a little bit fraught, but the lecturers, the University and my Detective Chief Inspector at the time were all very supportive and helped me with an extension when I needed it. For anyone who is considering doing some distance learning, I would definitely advocate it and I would absolutely champion and recommend Teesside University.
Did your time at Teesside University help you to achieve or get closer to your goals?
My time at Teesside University definitely helped me to get closer to my goals. Since graduating, I have continued with my career in the Police Service and I have been promoted to Detective Sergeant. The College of Policing are implementing a process where in order to gain promotion to and past the rank of Inspector, officers need a degree or need to be willing to undertake one, so having this qualification will definitely help me in future.

I enjoyed my course at Teesside – the tutors were excellent and knowledgeable and I would recommend it to anyone. I am now qualified to the rank of Inspector and wish to continue to develop and challenge myself and undertake further relevant study and hope in the future to do a Master's degree.