Andrew Critchley
Andrew wants to get a degree to help him enter the police force.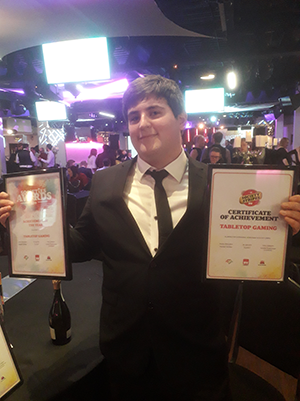 BA (Hons) Policing
Visiting an open day was really helpful. It gave me the reassurance that this was the place for me. I got to learn more about the course and see the facilities first hand.
Why higher education?
I want to go into policing and the new ruling that all new police officers will need a degree-level qualification made me think I should start my studies early before the rule was enforced.
What was important to you when choosing Teesside University?
I looked at the teaching hours, facilities, accommodation, degree of independence, extra qualifications I could gain, nightlife and how expensive it is to live in the area. I found some of this information in the prospectus and then came to visit an open day to find out the rest.
Was the open day helpful?
It was really helpful. It gave me the reassurance that this was the place for me. I got to learn more about the course and see the facilities first hand.

I also met some student ambassadors, which made me want to join the scheme when I started university.

Tell us about the student ambassador scheme
The student ambassador scheme is open to all students and pays really well, I get nearly £10 an hour. I get to go to schools, colleges, other universities, UCAS fairs, national events and internal events, speaking to prospective students about applying to university and university life.

When I came to a Teesside University open day, the first person I was greeted by was an ambassador – in the cold wind and rain he showed me to the correct building, where my course stand was, where the refreshments were and answered any questions I had. It made me feel so welcomed and comfortable and I knew it was something I'd like to do.

The best thing about being an ambassador is giving back to new students and having the opportunity to represent my university.

Best thing about your course?
The practical nature of the course and the lecturers are definitely the best bit.
Favourite module?
Volunteering has been my favourite module so far. It allowed me to work with the Air Training Corps across the North West and North East.

I also enjoyed Every Contact Leaves a Trace where I learnt crime scene investigation skills.

What else have you got involved in?
I've undertaken the Certificate in Knowledge of Policing. It's an extra qualification for the police force which will help me in the future. As well as the Professionalising Investigation Programme, which taught me the correct methods of how to conduct a police interview and the investigatory methods of how to deal with a suspect.

I've also become Vice-Chair Communications of Teesside University Tabletop Gaming Society. It has over 100 members and is the biggest group out of any other society, club or academic union. Representing the society at university level has given me a newfound confidence.

How did you feel about moving away from home?
I was nervous at first but I soon made new friends and gained some independence. It's taught me lots of skills which will help me in future life.
What surprised you most about Teesside?
The friendliness of the area and seeing the crime rate is very low around here.

The University is a really nice place and in an excellent location. The campus is very modern and friendly with a lot of new buildings. It's a great atmosphere – I wish I was a first year again!

Would you recommend Teesside University?
Yes I'd definitely recommend Teesside University and the course – it's one of three methods to enter the police force and certainly the best one for me.