Lynda McPherson
Lynda is currently studying and is Chair of the Psychology Society, BPS Student rep, volunteer at the Friarage Hospital and is an SLV Global ambassador.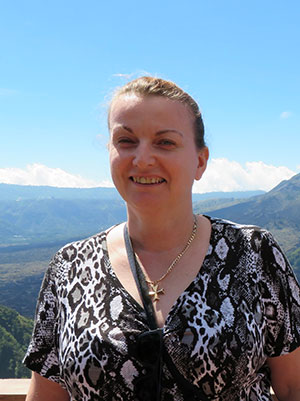 BSc (Hons) Psychology and Counselling
I just love learning. I spend weeks on assignments and miss the work once their done.
Why Teesside University?
Teesside was the only university I considered applying to. I live at home with my family, and I have always heard good things about Teesside, and it's local.
Why the subject?
I helped my husband, a nursing student, with research in an access course. I found his psychology module very interesting. I could also take a forensic module. This covered all options for me.
What did you enjoy most about the course?
I enjoyed the forensic module that I took in second year, it was really interesting. I just love learning. I spend weeks on assignments and miss the work once their done.
What do you think of the campus?
The campus is really good, you can use the app and maps to get around with ease. The library is one of my favourite places on campus and I love that there are so many different areas to work in, depending on your need.
Have you had any placements?
I recently spent a month in Bali, on an SLV mental health placement which involved working with various groups of people. During my time there I was lucky to have worked with deaf children, autistic children, orphans, adult psychiatric patients, severely disabled adults and others.

The work experience placement taught me a lot about non-verbal communication, working with others, thinking on my feet, planning and organisation and working within a multi-cultural society.

Any advice or recommendations about Teesside?
I would highly recommend Teesside. I have developed so much as a person since starting here. The course would benefit anyone interested in a future involving psychology. The staff are really good too.