Amber Lynch
Amber is enjoying living and studying in Middlesbrough and working as an ambassador alongside her degree.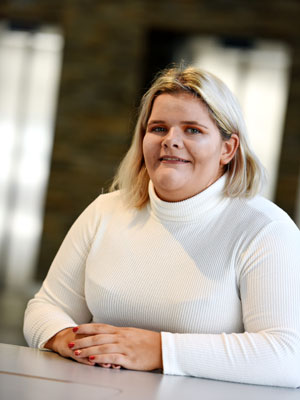 LLB (Hons) Law
The campus is amazing – everything is in close proximity meaning that you're never far away from your next lecture or seminar.
Why Teesside?
I am from the area and wanted to stay close to my family. My mam had also recently graduated from Teesside University and she'd had such a great experience that I felt confident I would enjoy my time here. I am really enjoying my course so far.
What do you think about the campus and services available at Teesside?
The campus is amazing – everything is in close proximity meaning that you're never far away from your next lecture or seminar. There's so much support available and staff are really helpful. The Students' Union is great – it offers plenty of advice on everything from your course to budgeting. The library is fantastic too. It's open 24/7 and the staff are brilliant. It offers lots of workshops to help you prepare for assignments and research.
What do you think about Middlesbrough and the surrounding area?
Middlesbrough is a great place to live. The University campus is a five minute walk from the town centre where there are plenty of shops. There are beaches just a short drive away and there's a great National Trust property close by called Ormesby Hall which often hosts music and theatrical events. Roseberry Topping is nearby too (another National Trust place) – it's a lovely climb and offers beautiful views.
Do you take part in any extra-curricular activities or work?
I'm a student ambassador so I work for the University, helping out with events on and off campus. The job has allowed me to form friendships with other students that I wouldn't have met otherwise. It's an amazing scheme and the other ambassadors are so friendly, helpful and supportive. I'd really recommend it – the staff provide plenty of support and the role has allowed me to really develop my confidence.
What skills have you gained at Teesside University that you feel will help you in your chosen career?
Confidence is the biggest skill I have gained. I'd like to be a college law teacher so being confident will really help me with this. I've also really developed my time management skills and this will help me with planning and organising in my chosen career.
Would you recommend Teesside University?
Yes – totally. The campus is so compact, this makes it so easy to meet new people. It's a great university for commuting to as the transport links are so good.
What advice would you offer students thinking of coming to study here?
I would advise them to apply. It's the best thing I did and the University campus is constantly been invested in and developed – things are just getting better.