University provides lift off for ambitious engineering graduate
Collecting his university degree will be a proud moment for James Dent – but he is also making a name for himself with an exciting space project at Teesside University which is gathering momentum.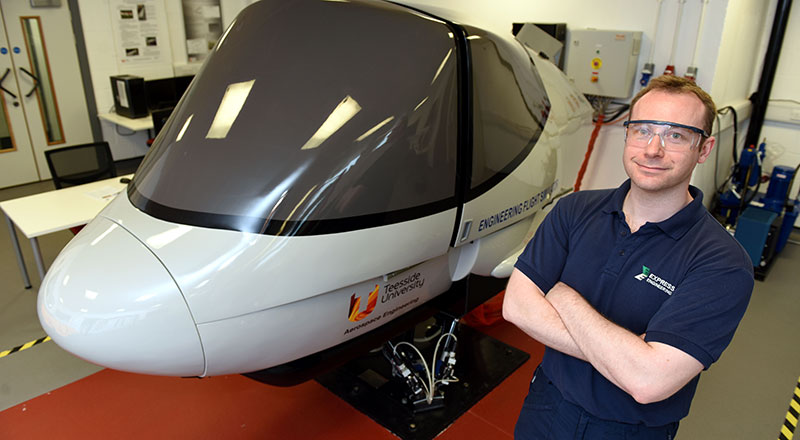 He graduates today with a MEng (Hons) Mechanical Engineering and is already working as a Graduate Engineer at Express Engineering at Team Valley, Gateshead.
James, 35, is also part of the TU2 Space project, which is working to become the first student team to successfully launch a rocket into space from the UK.
The TU2 Space project is being led by three Aerospace Engineering student managers – James Dent, Ben Massey and Andrew Dunn – and over 50 students have been involved so far across different programmes and courses.
Everything from research and testing, simulations, balloon experiments, the making of rocket fuel and marketing and social media is being carried out by the students at Teesside University.
'The goal is to be the first student team to put a rocket into space from the UK,' explained James.
'The project provides an opportunity to work collaboratively with other students and contribute to space and technology engineering research in the North East.'
I am excited to be graduating and looking forward to new opportunities.
James, from Blaydon, Tyne & Wear, says his experience at Teesside University was extremely positive and he received support, mentoring and flexible working opportunities through his employer.
His wife Vicki will be at the ceremony to see him collect his degree and he is looking forward to what the future holds.
'The course at Teesside University provides all the background and skills required to demonstrate knowledge in a range of engineering disciplines including Aerospace Engineering.
'I am excited to be graduating and looking forward to new opportunities at work and continuing professional development with a goal to achieve chartered engineer status.'
---