History placement reveals the story of Boro legend
A Teesside University History student's heritage collaboration has helped reveal the story of Middlesbrough FC and England legend George Camsell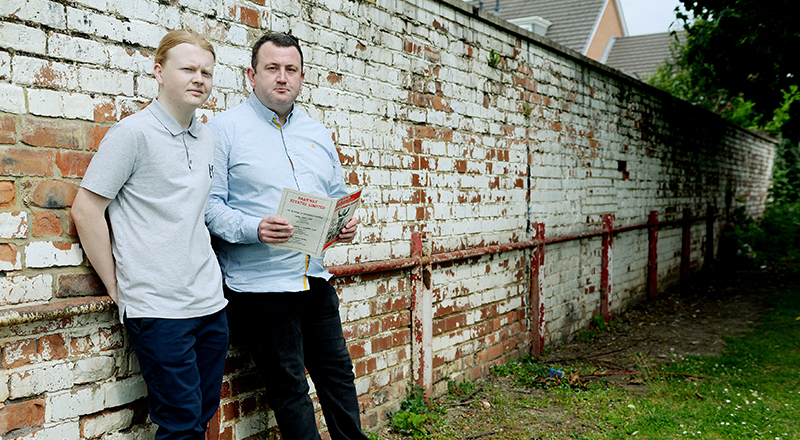 A collaboration between Heritage Unlocked and Teesside University has helped reveal the story of Boro legend and England's goal-to-games record holder George Camsell that will feature in the first biography of the football great.
Adam Shillaw, a Teesside University BA (Hons) History student, linked up with Heritage Unlocked as part of an ongoing placement programme that has seen a number of students develop and utilise their skills as budding historians beyond the campus.
During the six-week placement, Adam discovered an array of historical records that will be used to help shape the biography on Camsell to be authored by Heritage Unlocked historian Dr Tosh Warwick. As well as delving into the online digitised records of the British Library Newspapers, the Hartlepool-based student also made regular visits to Middlesbrough Reference Library to research Camsell's record-breaking feats for Boro in the 1920s and 1930s and digitised a selection of documents including match reports from the North Eastern Daily Gazette and The Northern Echo.
George Camsell, who scored an official tally of 345 goals for Boro – although the unofficial total is in excess of 375 goals for the club - was an influential figure in football both on and off the pitch. The Framwellgate Moor-born former Durham City star scored an incredible 59 goals in one season for Middlesbrough, hammered home 18 goals in nine England appearances, fronted endorsement campaigns for hair cream, wrote articles for national newspapers and in his later days helped discover the talents of a young Brian Clough.
The newly digitised material will be included in the forthcoming book, a selection of documents will be made available digitally on the Heritage Unlocked website, and also feature in next season's UTB Middlesbrough FC official matchday programme and other activities showcasing Camsell's career. Adam has also authored a Heritage Unlocked blog on his experience of researching the Ayresome Park great's career.
Working collaboratively with Adam and Teesside University has helped reveal new details and findings about Camsell's career


Dr Tosh Warwick, a graduate of Teesside University's MA History programme and founder of Heritage Unlocked, said: "Working collaboratively with Adam and Teesside University has helped reveal new details and findings about Camsell's career. The link-up has received lots of support from the staff at Middlesbrough Reference Library and the wider project has been a truly collaborative effort with the Camsell family, Teesside Archives, Middlesbrough Libraries, Middlesbrough Football Club, artists and collectors. Adam's work will help showcase the story of George Camsell both as a football legend on the pitch and a loyal and much-respected figure who was involved with Middlesbrough FC from the mid-1920s until his retirement in the 1960s in a number of roles".
Adam said: "Through my time researching his achievements and digitising archival material, Camsell's legend has brought a new-found respect for what he was able to accomplish, despite not being a massive football fan myself.
"By helping to uncover some of the historic material from Camsell's incredibly career, the research I carried out will hopefully help his achievements be celebrated more widely and has also helped develop my research and technical skills as an aspiring historian."
Margaret Hems, a Senior Lecturer in Teesside University's School of Social Sciences, Humanities & Law, added: "Heritage Unlocked has offered some great opportunities for History students in recent years.
"Adam's confidence and skills developed significantly during the time that he worked with Tosh. It was a partnership which had a fantastic and positive outcome.
"Partnerships like this of allowing our students to gain vital, real-world experience while supporting local businesses and organisation with our student talent."
Adam Shillaw's article and a selection of newly digitised material can be viewed at www.heritageunlocked.com/features.
---
In the News
New light shed on Boro legend George Camsell
Northern Echo, p.3, Print and Web, 24/06/2022 A Teesside student has unearthed fascinating archive records to shed new light on the life of Middlesbrough and England football legend George Camsell.