Home ›
Develop your people
Develop your people
Our relationships are very much part of what we stand for.
We work closely with businesses to gain a deep understanding of your values, culture and objectives, focussing on collaboration and co-creation to maximise opportunities to deliver tangible value.
We help individuals to learn how to think, act and reflect. Our solutions result in behavioural and mind set changes which improve productivity and create efficiencies.
Embracing the core ethos of entrepreneurial thinking, enterprise and employability our approach is that of an enabler. Our customised rigorous courses are delivered by industry experts and emphasise personal development; they are bespoke to the needs of your organisation and can be contextualised to a certain sector if required. Typical courses range in duration from rapid one-day masterclasses to more in depth 12 month courses.
Teesside University International Business School has been recognised as a UK centre of excellence for supporting small businesses with the Small Business Charter award. The Small Business Charter (SBC) award identifies business schools that deliver expert support to small businesses, local economies and entrepreneurship education.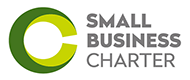 ---