Daniel Childs & Ursula Quick
Daniel Childs and Ursula Quick, both Senior Lecturers in Education in the School of Social Sciences, Humanities and Law (SSSHL), have worked together as a course team to ensure our students can continue to receive a high-quality learning experience during the pandemic.
Daniel is Course Leader for PGCE: Education and Training and three of the four core modules, and Ursula is the Link Tutor for the Teesside University College Partnership (TUCP) ITT routes, Module Leader for the Teaching children with Special Educational Needs and/or Disabilities (SEND) specialist route, and a Personal Tutor.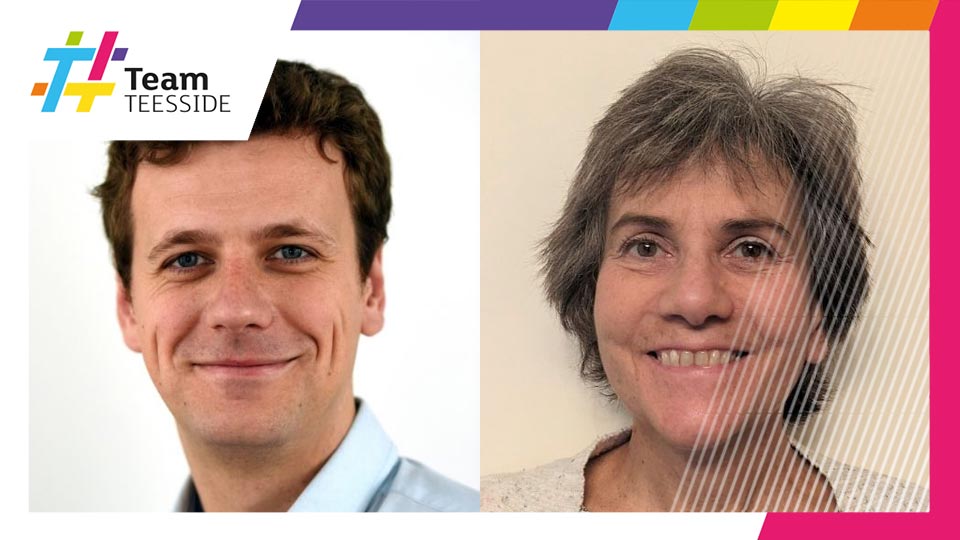 School of Social Sciences, Humanities & Law (SSSHL)
Our students have been very positive, pragmatic and supportive and they understand that everyone is doing their best in difficult circumstances.
How has teaching and learning changed at Teesside this year due to COVID-19?
In previous years our trainees would start the course with two weeks of full time (9am- 5pm) teaching and then engage in two days of face-to-face block teaching every week thereafter, but we now deliver half our tuition online due to the pandemic.
Our trainees also undertake professional placements throughout the year which we normally observe across a variety of educational settings. Due to COVID-19 it hasn't been possible for us to physically attend all locations so, where necessary, we are carrying out our assessments via a mix of video and live streaming.
The Postgraduate Certificate in Education (PGCE) also includes two annual conferences for trainees and we have developed innovative digital solutions to overcome the challenges posed by social distancing.
What are the biggest challenges for students and colleagues this year, and how are people adapting?
Dealing with changeable, uncertain circumstances has been the biggest challenge for everyone, and we've all had to adapt as best we can.
Striking the right balance in online learning and teaching has been a challenge. Materials that we would normally cover in three hours in class have taken remote learners significantly longer to complete than we anticipated. As a result, we are constantly asking trainees for feedback to help inform our decisions about how we share content, and how much content we can expect learners to process.
We've also developed several strategies to ensure mentors are fully trained and well-informed about the course their mentee is following, and our regular mentor newsletter is a vital way for us to communicate with them.
Since we can't host face-to-face mentor training sessions at the moment, we have developed effective alternatives that can be carried out remotely. We also now conduct online meetings with mentors, trainees and course leaders to discuss progress and jointly set development goals which is something that has real advantages and will remain a feature of our courses in the long term.
What are the benefits of the hybrid teaching model for students, and colleagues?
Colleagues and students generally seem to prefer on campus teaching (we are teachers and love being in the classroom), but the hybrid model does offer several benefits, including the ability to embed more opportunities for formative assessment and feedback.
All our modules include a mix of synchronous and asynchronous sessions, and the latter gives students a greater degree of flexibility over how, when and where they learn.
Trainees can apply for speciality routes such as English, Maths, and SEND. These routes have fewer enrolments and online teaching has proven to work particularly well with these cohorts.
Feedback from the students has been extremely positive as online teaching allows them to fit the extra study around their busy course and teaching commitments.
What has pleased you most about how your students have responded to the changes?
Our students have been very positive, pragmatic and supportive and they understand that everyone is doing their best in difficult circumstances. It's been great that our trainees have given us constructive feedback and engaged in open, honest conversations about what is and isn't working well.
We are very used to modelling learning and teaching practice for our trainees and this year we've been very open about how big a learning curve this year has been for us all - in many ways our trainee teachers this year are getting a unique insight into how much good teaching relies on being constantly willing to learn and adapt!
How have you been able to support students online?
We've developed a range of tools and techniques to support our students online such as lecture capture, online workbooks, discussion boards, email, MS Teams tutorials, and Collaborate Ultra drop-in sessions.
Online personal tutor support has been particularly effective due to the ease of arranging meetings and everyone's enhanced availability.
Do you think online learning will have an important part to play in academic delivery in the longer term?
It did before COVID-19 but we've learned some things that will change how we deliver aspects of our learning and teaching in the long term. We will continue to use discussion boards for Q&As relating to key topics and we'll conduct more video observations of teaching while encouraging learners to record their own teaching to inform self-reflection.
If the online activities work well, we will integrate them with some of the more traditional aspects of our conferences, and our specialist routes can be taught using a hybrid model in future. We will continue to offer personal tutor meetings online to enhance the student experience and focus on developing our approach in this area.
Do you have any advice for students, or colleagues, about how to make the most of the opportunities provide by online learning?
Yes, here are some suggestions and advice for students and colleagues:
Research, practice and discuss options for online learning.
Carefully consider the demands that online learning activities place on learners and colleagues alike.
Think about and discuss what is and isn't working, and then make appropriate changes.
Encourage learners to create weekly schedules to ensure they can complete all tasks and manage their time better.
Students seem to prefer shorter videos so consider breaking content into smaller chunks and use discussion boards to give them the opportunity to engage with theory.