Emily Graham
Emily chose to study Paramedic Practice because she had a strong desire to help people and coming to Teesside University has helped her achieve her ambition. She is now on the front line working as a Paramedic and supporting the NHS as they continue the battle against the coronavirus.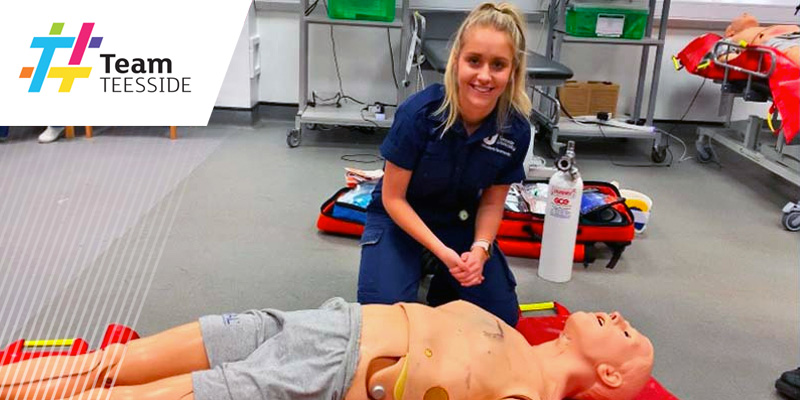 Age: 21
Where are you from? Gateshead
Morally it would not be right to do nothing when I know I have the skills to be able to help out at such an important time.
What course are you studying?
I am in the final year of my BSc (Hons) Paramedic Practice
Is being a Paramedic something you have always wanted to do?
I really started to think about it seriously when I was a teenager. My sister is a midwife and although I did not want to work in a hospital, I had a strong desire to do something to help people. Being a paramedic sounded perfect - being the first point of contact for people and being able to make a huge difference really appealed to me.
Why Teesside University and how has the course been?
Teesside has been perfect for me and the lecturers are all so supportive. The equipment at the University is fantastic and having an ambulance on site to be able to work from has been massive. The placements have also been a huge help and when you put everything together it has been a fantastic experience.
Why have you volunteered to go into paramedic practice early?
Over the years I have gained a lot of experience from the course. We are clinically signed off now and it feels like the right thing to do. I could not just sit back and watch a Trust struggle. Morally it would not be right to do nothing when I know I have the skills to be able to help out at such an important time.
What do you think you'll get from the experience?
It is quite daunting as this kind of situation has never been seen before, but I hope I will gain a lot of confidence from it, help a lot of people and hopefully become a better all-round paramedic.
What do your friends and family think about you volunteering to do this?
I still live at home with my mam and dad and they have an overwhelming feeling of pride - they will tell anybody who will listen what their daughter is doing. They are obviously anxious, but immensely proud at the same time. In terms of friends, a lot of them are in their final year like me and are doing the same thing. We are all extremely supportive of each other and happy to talk through any issues or concerns we might have.
What message do you have for your fellow students at this time?
Coming to Teesside University was the best thing that ever happened to me and I would definitely recommend it. My advice would just be to put yourself out there and come in with an open mind. You will see things that you never expected to see but everybody is so supportive and it is such a rewarding experience.