Joanne Irving-Walton & Dr Sophie Nicholls
Joanne Irving-Walton (Principal Lecturer, Learning and Teaching) and Dr Sophie Nicholls (University Teaching Fellow) from the School of Social Sciences, Humanities and Law (SSSHL) have been instrumental in helping their school adapt to the challenges posed by the COVID-19 pandemic.
Joanne manages onsite and TUCP-based Initial Teacher Education provision and Sophie teaches Creative Writing. Together they have developed a new Learning Lab to provide support for SSSHL academic colleagues.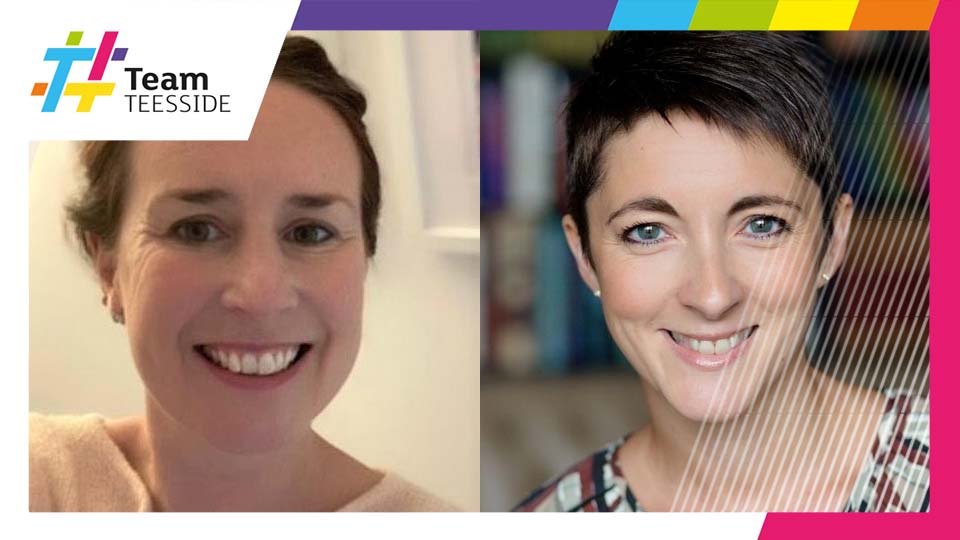 School of Social Sciences, Humanities & Law (SSSHL)
Everyone is truly committed to supporting our students and it has been fantastic to see how hard colleagues have worked to adapt their approach to meet our students' needs.
Briefly outline your roles at the University
As part of the response to COVID-19 our roles have involved developing the School of Social Sciences Humanities and Law (SSSHL) Learning Lab - a support site for our academic colleagues.
Learning Lab is a virtual learning environment (VLE) with resources and practical guidance about online, flexible and digital pedagogies.
We expect Learning Lab to evolve and become a space to share best practice and inspiration in learning and teaching throughout the School.
How has teaching and learning changed at Teesside this year due to COVID-19?
The lives of our students and colleagues have changed irrevocably. Whilst this means that there are feelings of loss and challenge, we also believe that there are opportunities.
Learning Lab is a way of supporting our colleagues through the pandemic and beyond, as we continue to develop innovative ways of teaching and learning.
We offer curated guidance allowing colleagues to engage with as their needs evolve, and we've also responded to specific requests from colleagues within the school.
We hope that the Lab will continue to evolve and that colleagues will contribute ideas and best practice.
How have you adapted to the changes personally?
Things are constantly changing so it's been important to acknowledge this and remain flexible. Different challenges will require different solutions. Talking to one another over MS Teams always helps!
What are the benefits of the hybrid teaching model for our students and colleagues?
It offers flexibility and choice. It can help us support all our students, particularly those who have challenging personal circumstances and responsibilities.
Asynchronous approaches, where students use online resources to learn in a way that is not constrained by time or place, enable us to be as inclusive and flexible as possible.
What has pleased you most about how your students have responded to the changes?
Many of our students have shared with us just how important their studies have become for them during this time. Some have found an important sense of focus, self-expression, structure and community through their courses.
How have you been able to support students online?
We hope that the development of Learning Lab will assist colleagues in supporting students.
Everyone in SSSHL is truly committed to supporting our students and it has been fantastic to see how hard colleagues have worked to adapt their approach to meet our students' needs.
Do you think online learning will have an important part to play in academic delivery in the longer term?
Absolutely. Many of our students are clearly benefiting enormously from the ability to manage and balance their learning more effectively with their personal and professional commitments.
Online learning opens up participation to a far wider range of students - in terms of both geography and also personal circumstances.
On the MA Creative Writing Online, for example, hundreds of students all over the world have now gained a postgraduate degree that they would otherwise never have been able to study for through a campus-based course - and that has been very exciting to see.
We believe that online learning can reinvigorate our approach to pedagogy and colleague-student co-creation.
We are seeing a huge expansion in the kinds of active learning opportunities that we can incorporate into our teaching. There is so much that we can do online that isn't possible in a traditional classroom which is inspiring for all concerned. For example, we can empower students to define or curate their own learning pathways through core curriculum materials.
The world of the future will look very different from the one that we live, teach and learn in now - and we need to embrace that.
Do you have any advice for students, or colleagues, about how to make the most of the opportunities provided by online learning?
Yes, there's a few things people might like to consider:
There is no one size fits all approach to online learning.
Think creatively and embrace the opportunities that online offers.
Rather than replicating what you might have done in a traditional classroom environment, take this chance to reimagine it.
Online learning is often talked about as a deficit model - but we think that revisiting how we work together in the classroom is long overdue.
Although none of us would have chosen for things to happen in this way, we have a real chance to innovate.