International Students
Find out how to prepare for your graduation
View information on visas, celebrations, excursions, places of interest, hotels, resturants and shopping.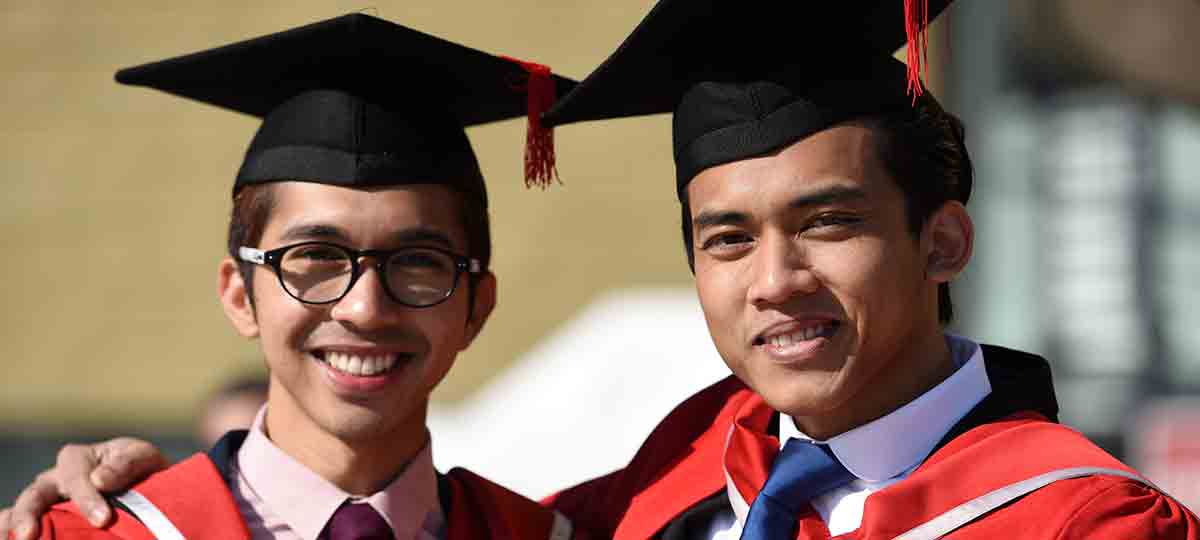 Standard visitor visa information
If you are an international student (from a non-European Union country), your graduation ceremony guests may require a Standard Visitor Visa to attend your graduation ceremony. This would allow them to stay in the UK for up to a maximum of six months.
- Find visa details here
- Find a list of the documents that must be provided when making a Standard Visitor Visa application
In addition to any letter of invitation you wish to prepare yourself, you can request a University letter of invitation for your guests from the International Compliance Team.
Email international.compliance@tees.ac.uk
If you wish for specific information relating to guests (name/ passport details etc.) to be included in your letter of invitation, please provide details within your request.
Etiquette at UK Graduation Ceremonies
Your graduation ceremony is one of the most important events in your life, and one of Teesside University's most formal civic occasions in the calendar. We want everyone to enjoy each graduation ceremony, and because of this we ask that you observe some simple rules of etiquette.
You can find more information by selecting The Ceremony section on the Graduation webpage.
Graduation celebrations on Campus
There will be a celebration atmosphere on campus and Teesside University will be hosting drinks receptions following each graduation ceremony. The reception will be held in a marquee on campus and will include a non-alcoholic area suitable for families and children, with its own entrance.
International student's friends and family excursions
To make sure you get the most out of your day and help you show your friends and family the place you have called home during your time with us, we have arranged a number of local trips.
Places of interest
Teesside is known for its exciting mix of industry, culture and striking scenery.
It's a vibrant, diverse region with urban areas and a picturesque coastline, countryside, and national park which are easily accessible by public transport.
If you are looking for things to do close to the University campus, there are some interesting places to visit a short walk from the University.
Albert Park | Green space in the centre of Middlesbrough, opened in 1868
Find out more | A museum hosting collections covering natural history, geology, arts and craft, and society and culture.
Middlesbrough Institute of Modern Art (MIMA) | Part of Teesside University, MIMA hosts a collection of modern art and craft and offers changing exhibitions, collection displays, learning activities, projects, and community-focused initiatives.
Hotels
There are a range of hotels in the region to suit all budgets. Here are two reasonably priced hotels, close to the University campus.
Holiday Inn Express Middlesbrough | Wilson Street Middlesbrough TS1 1AE T: +44 (0) 871 527 9572 Distance from the University – 0.5 mile(s)
t: +44 (0) 1642 917113
e: reservations.middlesbrough@holidayinnexpress.org.uk
Distance from the University – 0.2 mile(s)
Premier Inn | Wilson Street, Middlesbrough, TS1 1AE
t: +44 (0) 871 527 9572
Distance from the University – 0.5 mile(s)
Teesside University is not affiliated with any of the businesses above, and cannot accept responsibility for any given information or arrangements made with them.
Restaurants
If you are looking for a restaurant for a celebration meal or a quick bite to eat, there are lots of choices to suit all budgets and dietary requirements, including vegetarian and halal. Most are within walking distance of the University campus.
Shopping
There are a variety of local shops near Teesside University for any last minute shopping needs. You will find many famous UK high street stores along Linthorpe Road (North) and the town has three shopping centres, the Hillstreet Shopping Centre, Cleveland Shopping Centre and the Dundas Shopping Centre & Indoor Market. They are all within walking distance of the University campus.
Shops include clothing retailers, department stores, pharmacies and gift shops to suit all budgets and tastes.