News
From nursing to programming, Sarah is changing lives
After embarking on a whole new career path, Sarah McNeill has big ambitions of changing lives through technology.
More information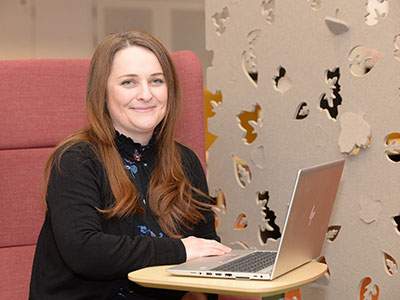 Sarah, 42, graduates from Teesside University this week with MSc Computing and, after achieving excellent results, she will deliver the valedictory speech for the School of Computing, Media & the Arts.

Following a long career in nursing, Sarah admits that she kept an open mind on her career options when she returned to university. Although she was initially intimidated by some of the experience her classmates had, this didn't deter Sarah from following her dreams.

'A lot of my fellow students had so much more experience than I did – I worried I might not be skilled enough to do well and apply for jobs in this field. But once I spoke to my tutors and other students I felt reassured. The support and encouragement from everyone at the University has been invaluable and has given me the confidence to apply to the company I most wanted to work for,' explained Sarah.

In 2016, Sarah graduated with BSc (Hons) Music Technology also at Teesside University, before returning to study her master's in computing. During her undergraduate degree, Sarah completed some programming modules and it was then she was reminded of how much she enjoyed programming on her Sinclair Spectrum computer as a child.

Sarah said: 'I wanted to learn more about computers and programming. I enjoyed designing and building small applications, and I hoped that I could learn to make something really useful which could help people in the future.

'Alongside my course I worked as a part-time research assistant at the University. As part of my work I created a mobile application for the NHS – this was an excellent opportunity which allowed me to manage a small project by myself and improve my confidence as a software developer.'

Sarah now works for a global management and consulting company that provides technical solutions for business. The role will allow her to develop her skills as a software engineer and she recently travelled to India to complete her initial training. Now Sarah has returned, she is receiving more training to become a DevOps Engineer – a role that will provide Sarah with a very sought after skillset.

She added: 'This role uses the most up to date approaches to software engineering and will provide me with lots of transferrable skills.

'I want to explore where my strengths lie and continue to grow in my current role. Once I have a strong skillset, I would like to be involved in training and mentoring new graduates and apprentices within the company.

'Ultimately, I would like to build technologies which make a difference to people's lives and the way they live. That is what is most exciting for me about technology at the moment.'


03 December 2018
In the News
From nursing to programming, Sarah is changing people's lives
Northern Echo, p.43, 3/12/2018, Evening Gazette, p.37, 3/12/2018
Around 1,000 Teesside University graduates are celebrating their success this week during Teesside University's annual Winter Graduation.