News
Phil's continued animation success with Pixar
Teesside University graduate Phil Shoebottom has helped bring to life the stories of some of the world's best known Pixar animated film characters.
More information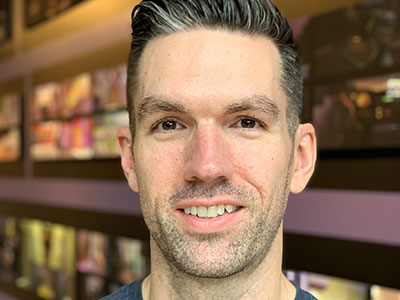 He has worked his magic on much-loved films such as Inside Out, Monsters University, Finding Dory, the Incredibles 2 along with Cars 2 and Cars 3.

Most recently Phil's work on Toy Story 4 earned him the Outstanding Created Environment in an Animated Feature award in the 18th Annual Visual Effects Society Awards. The team involved in the work were announced as the award winner at a ceremony in Beverly Hills on January 29.

Phil, who is originally from Wakefield, graduated from the BA (Hons) Creative Visualisation in 2003 and went on to work for RealtimeUK in Blackpool, before moving to San Francisco to work for Pixar Animation Studios.

He has gone on to work on a plethora of Pixar favourites, with his work on Inside Out winning the Oscar for Best Animated Feature in 2016.

Phil, who has been working in the computer graphics industry for 17 years, said: 'It's an honour to be nominated for such a prestigious award.

'When I started my career in computer graphics, I had no idea at the time where it would lead me and how privileged I'd be to be a part of this field. The visual quality and benchmark of CG has evolved and increased year over year.

'It is surprising to see how far technology, passion and talent have come. Over the years I have had the opportunity to work with some of the most talented people in the industry on some of the greatest and well-loved animated feature films.

'From creating video game cinematics, to ArchVis and Automotive Configurators, to now working at one of the most successful animation studios of all time – it's been an exciting 17 years and I look forward to what comes next.'

Phil, who has returned to Teesside University in the past as one of the many guest speakers at the annual international Animex festival, said: 'If it wasn't for studying creative visualisation at Teesside, I most definitely wouldn't be where I am today.

'Although the path to Pixar wasn't a direct one, my degree enabled me with the skills and knowledge to land my first job in the industry at RealtimeUK. I wouldn't have been able to land that job without the portfolio of work I'd produced under the guidance and support of not only the lecturers, but also my friends and fellow students.'

Justin Greetham, Senior Lecturer in Visualisation, in the University's School of Computing, Engineering and Digital Technologies, said: 'I can remember Phil from his time with us here at Teesside University where as a student he demonstrated a passion for the 'photoreal', creating animations which involved cars and children.

'His attention to detail and storytelling ability meant that we eventually submitted one of his animations to the regional Royal Television Society Awards. He didn't win on that occasion, but we'd all been keeping our fingers crossed that he would come away with a trophy and deserved recognition from the VES awards.'

03 February 2020
In the News
Phil works his magic
Evening Gazette, p.27, 31/01/2020
Think of your favourite Pixar movie, and chances are it is some of Phil Shoebottom's work you've enjoyed.