Growing and glowing: Key Wellbeing takes on its first employee
A workplace wellbeing organisation, which has received support from Teesside University, is growing its team, having appointed its first, full-time employee.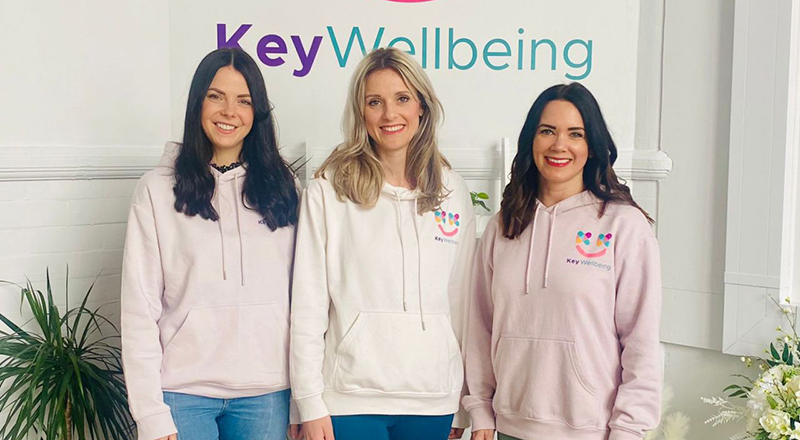 Hannah Draboczy joins the team at Key Wellbeing as Marketing Lead and will manage the business's marketing and customer engagement moving forward, with a focus on raising the profile of Key Wellbeing and the ways it can help employees to become healthier and happier at work.
Since launching in 2020, co-founders Marie Ranson and Melissa Armstrong have worn all the hats to get Key Wellbeing to where it is today, alongside some invaluable support from Teesside University.
The Middlesbrough-based start-up initially took part in the University-led initiative, DigitalCity, to develop a digital solution for its workforce wellbeing consultancy and training company throughout the pandemic and later joined the Teesside Launchpad FUEL Programme to develop the business further.
FUEL also opened the door to an office at Teesside Launchpad within the University's Victoria Building where the team works its magic to help employees thrive at work via bespoke wellbeing programmes, initiatives and The Key Wellbeing Hub; an all-in-one, employee wellbeing and support e-learning platform.
Its first internal appointment marks the start of Key Wellbeing's exciting growth plans, adding to their partner network with intentions to add further recruits later this year.
New recruit Hannah Draboczy said: "I am over the moon to have joined the Key Wellbeing team. I met Marie and Melissa during the early stages of their start-up when they took part in the Accelerator Programme led by DigitalCity, who I was working for at the time.
"From the get-go I have admired what they are doing to support employee wellbeing, and their unique approach to wellness at work. They're all about bringing fun, happiness and value to workplaces, while educating employers to support the serious stuff like mental health, personal development and financial wellbeing.
It is fantastic to see a business grow and we are delighted to have supported Key Wellbeing to get to where it is today.
"With my own passion for all things wellbeing, health and having fun, I feel so lucky to be part of their journey and I'm really looking forward to shouting about all the great things we can do to help businesses both regionally and nationally."
Former Teesside University graduate and Commercial Director of Key Wellbeing Marie Ranson said: "What an exciting time to be in the wellbeing space, if the pandemic has taught us anything it is that our mental health matters. We're thrilled to be growing our team and supporting more organisations within the Tees Valley and beyond."
Melissa Armstrong, Creative Director of Key Wellbeing, added: "We are so pleased the business is growing and in a position to be able to take on Hannah, who we know will be a great addition to the team here at Key Wellbeing, bringing her extensive marketing experience to help us reach more businesses that are in need of a wellbeing boost."
Lynsey Robinson, Director of DigitalCity, added: "It is fantastic to see a business grow and we are delighted to have supported Key Wellbeing to get to where it is today. I know from first-hand experience what an asset Hannah will be to the business and I look forward to continuing to work with her and the rest of the team at Key Wellbeing to help them to further success."
If you're an employer looking to embed health and wellbeing deep into your workplace culture, visit the Key Wellbeing website.
---