A Teesside University graduate who has forged a successful career in the oil and gas industry is looking forward to two of his children following in his footsteps with their own campus journey.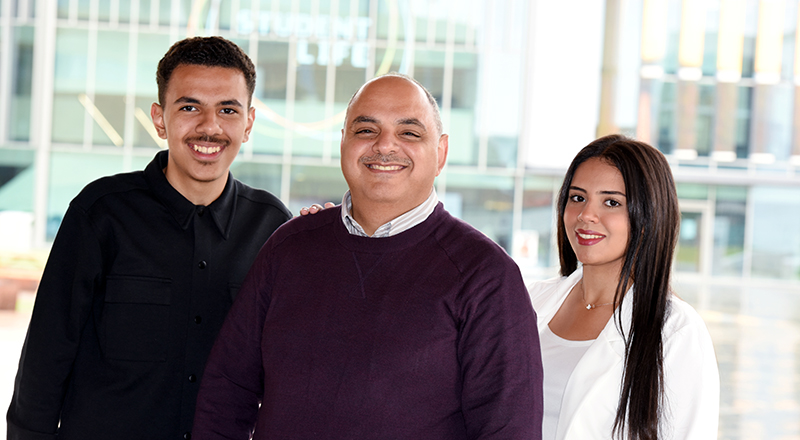 Ibrahim Al-Hindawi, who graduated from the BEng (Hons) Instrumentation & Control Engineering in 1996, is now President, mCloud MENA, a software company using data and AI to transform how energy assets are managed around the globe and is part of mCloud Technologies.
He recently returned to Teesside University with daughter Danya and son Anas to see how the campus has changed since completing his own degree more than two decades ago.
Danya, 20, is due to graduate from her own engineering studies at Teesside next summer, while son Anas, 18, is just beginning his own Teesside University engineering journey.
Ibrahim, whose work is based in Al Khobar, Saudi Arabia, said: "Back when I was a student, I chose Teesside University due to its relationship with industry, such as what was then ICI and British Steel, along with other operating companies, which meant hands-on experience could be offered to keep up with industry requirements.
"Visiting the campus and seeing Middlesbrough Tower has brought back many good memories with my friends at lectures and the computer lab rooms. The campus has changed for the better and it makes me very proud to see how modern and green the buildings are, especially now with the new BIOS medical facility which is under construction.
"It was good to see the iconic buildings, along with the new buildings with contemporary lecture theatres, laboratories, computer labs and student support services. I wish the clock could go back to study again.
Visiting the campus and seeing Middlesbrough Tower has brought back many good memories
"I am very impressed what I saw inside the buildings, with the innovative and modern furniture and hi-tech equipment, along with cafes and shops in every building to help make students feel at home, which will help them to focus on their studies."
Ibrahim added: "It has been good to see the transformation and I am proud to recommend Teesside University to Danya and Anas."
Danya, final year BEng (Hons) Mechanical Engineering student: "I'm really enjoying my degree and look forward to graduating next year, when I hope to go into the renewable energy resources field."
She added: "I was always brought up to think that engineering is open to everyone. It was difficult at first with not many females studying this field, which made it hard when it came to socialising, but the module structure really helped as it meant we were regularly working in different groups."
Anas, who is starting the BEng (Hons) Instrumentation & Control Engineering, said: "I was keen to follow my dad into studying engineering and was happy to study at the same place as my dad."
---