Honorary graduates feature in prestigious exhibition
Teesside University honorary graduates feature in a major exhibition celebrating the impact of the River Tees on our region, created in a partnership by MIMA Middlesbrough Institute of Modern Art and the National Portrait Gallery.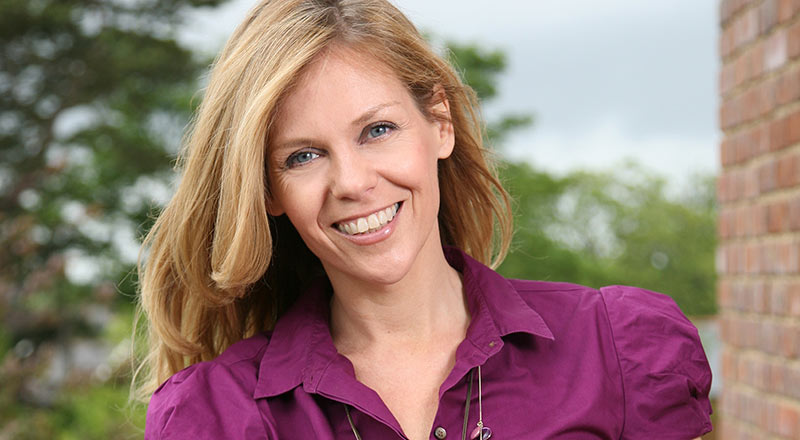 People Powered: Stories from the River Tees, highlights how the River Tees has influenced the region, from creating the Tees Valley to shaping the landscapes of its towns and industries.
The exhibition can be seen at MIMA from Saturday 22 July and runs to 7 January 2024. It features artworks from collections held by MIMA and the National Portrait Gallery, which will sit alongside new commissions, some of which were created through the involvement of local communities.
Author Adele Parks MB and comedian Bob Mortimer, who were both born in Middlesbrough and are Teesside University honorary graduates, feature in the exhibition as part of a series of photographic portraits from the National Portrait Gallery. Another honorary graduate, Thornaby-born actor Richard Griffiths, who passed away in 2013, is also featured.
Other National Portrait Gallery photographic portraits included in the exhibition include Mo Mowlam, Bob Mortimer's comedy partner Vic Reeves, playwright and writer Lady Florence Bell, social documentary photographer Tish Murtha and Sir Ove Arup, engineer and founder of Arup Group.
The eclectic mix of photographic portraits featuring people with a link to the region also includes football player and manager Brian Clough, musician Paul Smith from band Maximo Park, 19th century designer Christopher Dresser and film director Ridley Scott
A mix of materials, themes and soundscapes will lead visitors through MIMA's spaces, rediscovering the River Tees and its mosaic of environments and people. Alongside the exhibition's newly created content, will be work by young people, schoolchildren and others who influence and shape the river as an environment.
Artist Diane Watson is collaborating with schoolchildren at St Mary's Catholic Primary School in Grangetown to make new work in response to Herring Gull (1974) by Elisabeth Frink held in the Middlesbrough Collection. The resulting work, a vinyl wallpaper is also presented in the exhibition.
Local photographer Gilmar Riberio captures portraits of many people who work, rest and play in and around the river, plus others who associate with it through memory or imagination.
Young People from MIMA's Saturday Club, which is part of the National Saturday Club initiative, will display work drawing on myths and legends from the River Tees, which will be brought together with a contemporary soundscape of stories and folklore.
The River Tees has a unique and special role within the Tees Valley
Electronic music group A Man Called Adam will launch an ambient river soundscape, with community voices at play in the gallery.
MIMA's windows will also feature photographic work by Verity Adriana, Senior Lecturer in Photography in the School of Arts & Creative Industries at Teesside University, and will be in the form of a short photo essay inspired by AV Dawson Limited's site at the Port of Middlesbrough.
Claire Pounder, Learning Curator at MIMA, said: "The River Tees has a unique and special role within the Tees Valley, responsible for bringing life, culture, heritage and economic growth to the region and for encouraging people into the outdoors.
"Through this exhibition, we make connections between a physical environment - the River Tees - and the rich and diverse lives of people who have shaped its stories. We ask about the different imaginative scopes of the river and about how it forms us in return. We openly ask questions about why we search for, collect and tell these stories."
An exciting public programme of activities and events take place alongside the exhibition as MIMA introduces a Sunday music programme with A Man Called Adam, a Tees Women Poets Residency, artist group Foundation Press residency on the Family Art Trolley, MIMA's community journal MIMAZINA and creative series of Art + Social events with music, making and performances.
Liz Smith, Director of Learning and Engagement at the National Portrait Gallery, added: "We are delighted to have partnered with MIMA on People Powered: Stories from the River Tees. This exhibition is a testament to the power of our environment as a catalyst for intergenerational storytelling and creativity.
"Through works from the National Portrait Gallery Collection and new commissions from local artists and young people, Stories from the River Tees is an opportunity to reflect on local lives and experiences and create new memories and records of an environment of local and national significance."
People Powered is funded by National Lottery Heritage.
---