Joseph Kean
Joseph was a drug advice worker, who had experience of a number of different statutory and voluntary social service sector jobs, but little focus and specialism. Studying an MSc part time at Teesside University allowed him to address this, and since graduating he has gained promotion.
Contemporary Issues in Drug Use, MSc
'I feel that the combination of my qualifications and experience have prepared me to undertake more senior roles.'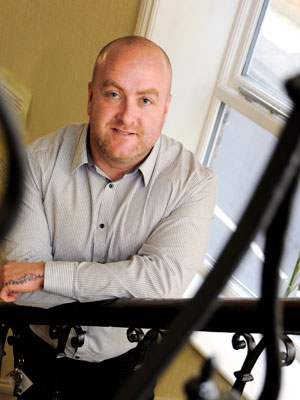 Where do you work?
I work for a national drug and alcohol charity called Lifeline, whose mission is to work with individuals, families and communities both to prevent and reduce harm, to promote recovery, and to challenge the inequalities linked to alcohol and drug misuse.
What does your current role involve?
I began in a Drug Advice Worker based role with responsibility to the Steroid Project. Since this time my roles and responsibilities, and respective job title and salary, have grown to now include North East wide duties including:
- maintaining an appropriate caseload of T3 clients with specific relation to Image and Performance Enhancing Drugs within the Middlesbrough area
- designing and delivering training and interventions to staff and their respective service users internal and external to Lifeline as well as local and national
- supporting team leaders and operational managers in the application and procurement of funding, supporting and creating healthy relationships with partner agencies across the region
- engaging and supporting the undertaking of research with the aim of contributing to publications.
How did your time at University help prepare you for your career?
By focusing on a specific area. Prior to my beginning my MSc at Teesside University I had worked in a number of different statutory and voluntary social service sector jobs with little focus or specialism. My MSc allowed me to address this.