BSc (Hons) Food Science and Nutrition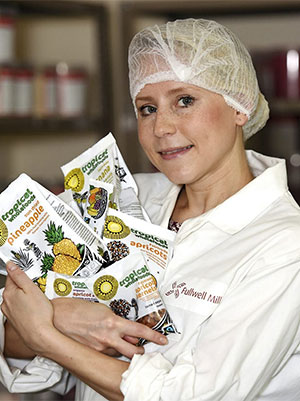 Before applying, I contacted student services to enquire about the career paths and job roles that previous students of the course were in. This helped me see how diverse the course was in terms of career options. Another reason for choosing Teesside was the amount of local food manufacturing businesses in the area, which I could potentially work for and gain experience in whilst at university.

My time at university helped me greatly within my career, specifically the three core modules - Food Safety and Law, Food Product Development and Functional Food. These modules provided first-hand experience of exploring the management of food safety and developing new food ideas with appreciation for costing, shelf-life and consumer trends.

During my degree I completed a number of placements in the public health and food industry which really opened my eyes to different career paths. I did a placement at Glanbia Performance Nutrition, where I worked in the new product development (NPD) department to develop a vegan high protein snack bar for my dissertation. When I graduated I was awarded the Evening Gazette Prize for the most noteworthy final year project that made a significant contribution to the field of food science. This was a fantastic experience in the functional food sector, as I worked with a wide portfolio of ingredients. I also had a placement in Teesside University Catering, I developed nutritious salads, sandwiches and snacks for the Garden Cafe opening in the Student Centre on campus.

While studying ay Teesside University I was involved in many extracurricular activities including volunteering for the Food Coop and the Cookery Club. These activities helped to me gain experience and to network. I was also a member of Teesside University Pole Fitness club. The careers service also helped me a great deal throughout my studies, especially for preparation for job applications and interviews.

Whilst in my final year at university, I was employed as a NPD technologist at Fullwell Mill Ltd, based in Sunderland. Fullwell Mill are a manufacturer of organic, fair trade and healthy foods, who also offer services to customers around the world for snack bar manufacturing. I initially worked part time due to the nature of my timetable. However, since finishing my exams I have been working full time so I have more responsibilities within the business and develop my food safety training. Since working full time, I have gained hands on experience of working in the food manufacturing industry and I have the opportunity to travel working on food projects abroad.

Within my role, I aid the new product development process and assist with product innovation. This involves working closely with a broad range of customers, developing recipes for healthy snack bars which meet our customer's needs. Products range from fruit and nut bars, cereal bars, diet bars and protein bars. Other key responsibilities include sourcing new ingredients which are approved to certain standards and ensuring food safety and food quality is adhered to at all times.

I am currently working my way towards Level 4 Food Safety which will help me develop and apply food safety and food quality related skills into practice. My ambition is to fully utilise the ingredients we can source from our producer partners in Africa and Asia. Sports nutrition is also an area I am very interested in and I plan to develop my knowledge in this area in the near future.

I would recommend Teesside University and my degree. The lecturers on the course make a real difference to learning experience due to the wealth of knowledge they hold and the wide range of contacts they have within the industry. They take on board feedback and implement this where possible and get students involved in extracurricular activities. Student services and the course leaders really help students to find work placements and future jobs.