Michael Lazenby
Michael's time at Teesside has led to him setting up his own business - Drone / One.
BSc (Hons) Web and Multimedia
The facilities available on campus had everything I needed when I needed it.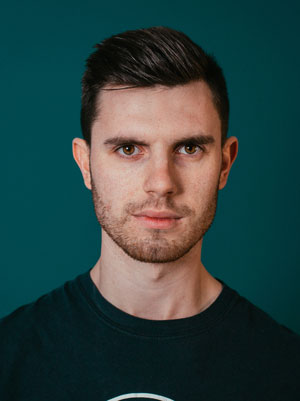 What brought you to study at Teesside University?
I came to study at Teesside after hearing about its facilities and the courses available. I felt it was the right place to study for me whilst being close to home.
What was your course like?
The course was incredibly creative and hands-on, I was able to create projects and work on things I was passionate about while learning all the relevant information. This really helped me enjoy and appreciate the course a lot more.

The facilities available on campus had everything I needed when I needed it. If I needed to hire a piece of equipment for a project, I knew it would be available for me to use. I made sure to use as many of the services provided to me as much as possible whilst I had access to them, as I knew my work and skills would benefit greatly from taking advantage of them.

My favourite part of the course was probably the level of communication and social interaction between classmates and lecturers. They were all so easy to get on with and made classes a lot more relaxed by having that informal interaction.

What was your favourite module?
My favourite module was Conceptual Design and Creativity. The module really allowed me to do what I love and create an emotionally crafted piece of work that went towards my degree. I got hands-on with new equipment such as drones, cameras and other great pieces of tech that without access to, the project would have not been as powerful as it was. This was the stepping stone to launch my career and set up my own business in aerial filmmaking and photography.
What was your social life like when you were studying at Teesside University?
It was an unforgettable experience, your classmates soon become some of your closest friends, which helps when it comes to those long nights in the labs all working together. Having pubs and bars on campus was also really good for us if we needed a break.
What have you done since graduating and what are you doing now?
I have continued building my skill-set in photography and filmmaking, and I recently set up my own business Drone / One (wearedroneone.com).
Did your time at Teesside University help you to achieve or get closer to your goals?
Without the support and constant kind words and encouragement, I would not be in the position I am today. University really changed me as a person for the better. It's an experience I will never forget and one I wish I could do over and over again.