Support from Teesside University has helped UK mental health and wellness platform Myndr accelerate its plans for UK growth and expansion with £300,000 backing from the government's Innovate UK programme.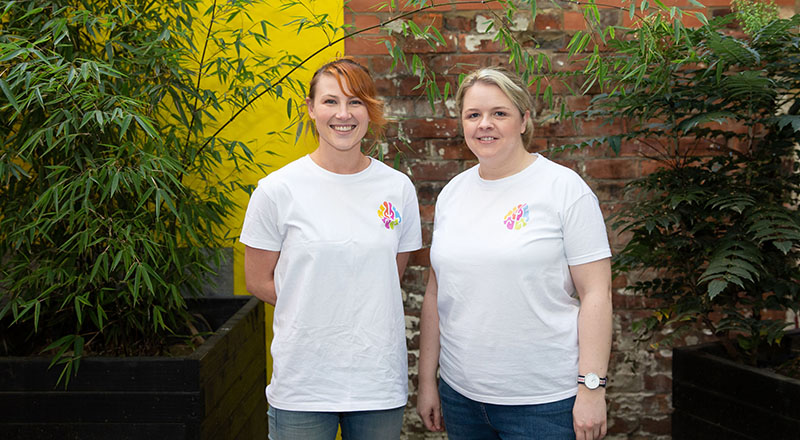 Staff from the University worked with Myndr to deliver innovation support and introduced the company to a development partner, as well as writing the winning grant application to Innovate UK.
Myndr will use the grant to roll out its vision of reaching thousands of UK employees and members of the general public who need mental health support.
Based in Newcastle upon Tyne and set up by North East Young Entrepreneur of the Year, Lizzy Hodcroft, and entrepreneur Emma Reilly, founder of The Brave & The Bold clothing line, Myndr is an innovative digital learning and support platform that helps company leaders and their employees help battle common mental health issues via peer-to-peer support.
The company was given innovation support by Omar Al-Janabi, an Innovation Manager at Teesside University, through the Enterprise Europe Network's Innovate2Succeed programme.
He introduced Myndr to Komodo, a Tyneside web development and app agency and authored the collaborative bid to Innovate UK.
Working alongside Komodo, Myndr will now launch its pioneering AI-assisted app in the next 12 months, further develop its online technology, invest in new staff and strike up partnerships with like-minded businesses.
Myndr aims to create an anonymous platform that allows those suffering from common mental health issues to seek help from others who have experienced similar problems.
Lizzy Hodcroft said: 'We're incredibly honoured and proud to have received this grant. Most of the funds will be used towards further development and content for the app as we have high expectations to deliver a platform that is contextually smart as well as impactful with practical, actionable steps and content.
'We have already recruited new members of staff that will help us drive the service forward. They're helping with the agile dev to get data into the system fast.'
Emma Reilly added: 'Apart from the obvious benefit to our users in terms of support and action plans for their mental health, we are also very proud that we can offer a helping hand to many that have found themselves without a job or income during this time.
'Because of the Innovate Grant and its timing, we have been able to reach out to professionals, freelancers, doctors, peers and so many others to help to provide Myndr with courses, content and suggestions and in turn pay these amazing individuals for their service. Although we aren't able to completely solve any financial issues for people, we are very proud that we can support in some way.
'Our service is for anyone. But I do personally feel that those feeling as though they have lost control and connection during this lockdown will find our tools most useful. The way Myndr is made with empowering individuals in mind means that we can support them in identifying issues, exploring different ways they may solve these problems and guide them to choose what solutions they feel will work best for them to move into a plan of action.'
Laura Woods, Director of Academic Enterprise at Teesside University, said: 'We are delighted to have been able to help Myndr, particularly as Innovate UK receives more than 1,800 applications for funding per annum, only 2% of which are successful.
'Myndr offer an essential service which makes a real impact on people's lives and it is fantastic that they now have the opportunity to expand this vital support.'
Innovate UK, the UK's innovation agency, is part of UK Research and Innovation, a non-departmental public body funded by a grant-in-aid from the UK government. It drives productivity and economic growth by supporting businesses to develop and realise the potential of new ideas, including those from the UK's world-class research base.
Since 2007, it has invested around £2.5 billion to help businesses across the country to innovate, with match funding from industry taking the total value of projects above £4.3 billion.
It has also helped 8,500 organisations create around 70,000 jobs and added an estimated £18 billion of value to the UK economy.
---