India Barnardo
India is an animator at Framestore, London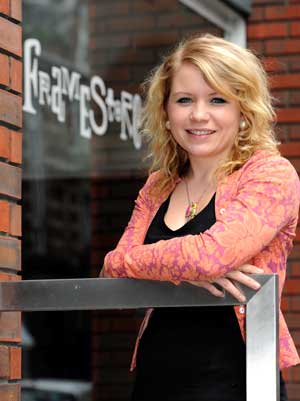 BA (Hons) Digital Character Animation
'I recommend Teesside University and the course because of the warmth of the people, the superb facilities and because it hosts Animex International Festival of Animation & Computer Games.'
When I graduated, I started as a casual runner at Framestore before becoming a full-time runner, of which one of my main duties was running for Mexican film director, Alfonso Cuarón, on the set of Gravity. After a year, I successfully applied for an animation role in commercials.

I worked as a junior animator for three years. I've progressed from background animation and cycles to helping with creative rigging decisions, contributing ideas to story and character designs, and animating hero shots.

I mainly animate realistic creatures – everything from a full computer-generated parrot to a muzzle replacement on a cow. Commercials offers a vast variety of work, as we have also have the opportunity to work on more stylised projects such as Tooned, a cartoon series for McLaren Formula 1.

A couple of the modules from my degree have really helped my way in commercials as they involved going through the entire pipeline. This has proved very useful when I'm on a project, working closely with people from other disciplines. But the most constructive aspects were the people I met and was influenced by. And of course, Animex, the high-profile international festival of animation and computer games hosted by Teesside University.

I love the environment and people at Framestone. It has a great atmosphere and I really feel part of the team. Framestore has branches all over the world, so I would like to travel with the job in the future, if possible.

I chose to study at Teesside University because it had the best combination of warmth, friendliness and facilities (the labs are just excellent!), and personally, I felt it was the most artistic computer course available. I was really lucky to meet the people in my year, from lecturers to lifelong friends. We formed a close bond, and went on to create a society of people with a range of different skills and disciplines. It encouraged us to share and widen our knowledge as a whole. It was a very collaborative year group, and I'm thankful for meeting them all.

I recommend Teesside University and the course because of the warmth of the people, Animex and the superb facilities. There's everything you could ever need to make a film – a green screen, recording studio, motion capture suite, life drawing, animation lightboxes and, of course, countless computers.