Harry Tanfield
Harry is enjoying his course, and the Elite Bursary supports his cycling success.
What brought you to study at Teesside University?
I chose to study at Teesside as it offered the course I wanted to do, it's close to home, and from a practical point of view, the logistics of training and cycling professionally work better with me studying at Teesside.
What's the course like?
I'm thoroughly enjoying the degree, especially the structural design lectures, designing beams and columns and other structures. The course covers a very broad range of topics. If I'm not doing university work, then I'm usually riding my bike.
Tell us more?
I benefit from the University's excellent sports facilities and the Elite Athlete scheme. The support I get is world class. Everything is catered for, from strength and conditioning to physiological testing and injury support. The financial help supports me in getting to races and with equipment costs.

I have finished 5th in the Under-23 British Cycling National Time Trial Championships, back in 2014. Before joining a professional Continental Cycling Team, JLT Condor for 2015.

I rode six-day and four-day stage races in France and Ireland respectively over the Easter holidays. (which the university have been very understanding with, allowing extra time for assignments). I have had podium and top 10 finishes on stages and 1 day UCI races such as the Tour de Yorkshire in the past, in addition to finishing 2nd place overall in the British National Circuit Race Series overall.

This year riding for a new Continental team, Bike Channel - Canyon I have won multiple open races and time trails in the UK as well as winning the Combativity Award, (Grey Jersey) at this years UCI 2.1 Tour de Yorkshire. This really gives me confidence going forward as I finish my degree to pursue my cycling career as far as I can, something that Teeside University has greatly helped with and wholly embraced.

What's next for you?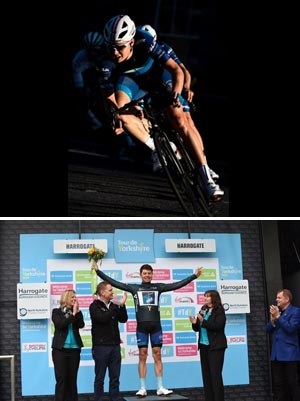 I've enrolled on MSc Civil and Structural Engineering at Teesside part-time. The course follows on in the same subject field as my undergraduate degree and this is something I wish to further pursue, on a part-time basis so that I can additionally focus my attention to my cycling career in tandem with this.