Rosemary Stubbs
Rosemary loved the wide choice of modules on her course, and the highlight was her dissertation.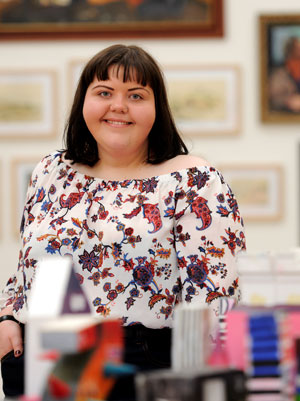 BA (Hons) History, 2013
I had great support from my dissertation tutor, with regular meetings and guidance in how to approach my subject.
What brought you to study at Teesside University?
My primary school was a partner in the Meteor project, so events were held on campus for a few years, giving an idea of what university life was like and what opportunities were available. To study at Teesside had been an option ever since. I chose to study history as I felt that there was a lot of the subject that I had not been given the opportunity to study at A level. Teesside was my obvious choice of university, as I wanted to stay in Middlesbrough, living at home as I studied.
What was the course like?
I enjoyed how much support was available from my course tutors, who were helpful and engaging with my studies. The choice of modules was wide-ranging, and across my three years of study I chose modules as diverse as Ancient Greece and Modern Scandinavia, which helped me in deciding what aspects of the subject I was most interested in. My favourite modules were the second year Modern Scandinavia and the third year Revolution and The State. However, what I liked the most about my course was studying for my dissertation. I had great support from my dissertation tutor, with regular meetings and guidance in how to approach my subject. I won the Rob Lee Memorial Prize for the most outstanding piece of work in the field of northern history for my dissertation, and this is something that I could not have done without the resources available in the university library.

My social life was great. I met some of my best friends on the course, and we would go out to different club nights across Teesside. There's a really good live music scene on Teesside, and a cheap night out is easy to come by. Teesside is really close to other towns and cities in the North too, so getting to nearby events is no problem.

What did you do next?
After graduating I worked as a marketing and communications assistant at mima (Middlesbrough Institute of Modern Art) for two years. Working at mima was an incredible opportunity, from performing on behalf of internationally renowned artists, to interacting with some of the wonderful gallery visitors.
What are you doing now?
I have returned to Teesside University to study MA Cultural History, supported by an Arts and Humanities Research Council studentship.