Sara Qaed
Sara travelled from the middle-east to Teesside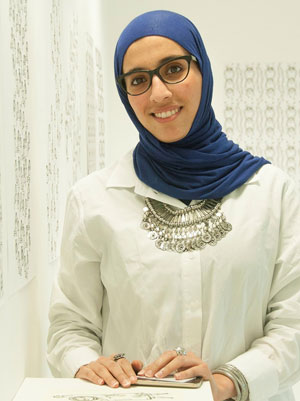 MA Fine Art
'As an international student, part of my enjoyment was to see a new culture and meet students from other cultures as well. If you want to study fine art I would definitely recommend Teesside.'
I had a passion for art and many ideas for artwork and I wanted to get more exposure by joining a group of artists from different backgrounds.
I found out about Teesside by searching online. I choose to study at Teesside for the location, environment and the ranking. I found fine art interesting as a medium to speak up and show the way I see things.
At Teesside I enjoyed the gallery visits, group walks, discussions. I also found the artists talks and spending some time with them later to talk about our ideas was very helpful.
I believe that joining the art gatherings can help anyone to improve their passion and future career. Joining Teesside University and discussing work with the great instructors was very helpful. I loved the amount of freedom and tips given to be yourself more than anything. This helped me to ask more and progress!
As an international student, part of my enjoyment was to see a new culture and meet students from other cultures as well. During the discussions it was very interesting to listen to some different perspectives. It helped me to look at my work in a different way!
The campus was really good. There are a variety of services provided that satisfy different kind of practices in this field. It's easy to be social inside the university, people were so friendly! I am from the middle-east, and it was really easy for me to find a variety of restaurants and cafes (especially halal and alcohol free), many shops were offering modest wear for covered women, and the cost was reasonable as well.
After graduation I participated in some group exhibitions. Now I work as a part time interior design lecturer at the University of Bahrain and I'm also a full time mother. I also work as an editorial cartoonist, and I'm planning to publish an interactive book next year. I am also trying to turn my MA research into a brand because it was part of my concept from the beginning.
If you want to study fine art I would definitely recommend Teesside.