Shaun Armstrong
After leaving the army, Shaun decided to build a new career in occupational therapy.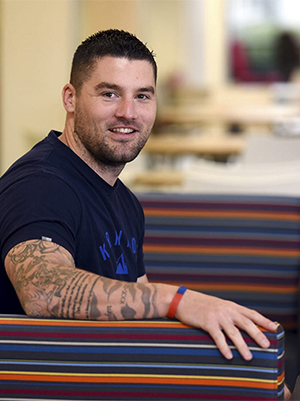 BSc (Hons) Occupational Therapy
'I got in touch with the University and within four days I had visited the campus, met with one of the senior lecturers from the course and decided it was the degree for me.'
What brought you to study at Teesside University?
After leaving the army I felt quite lost – I didn't know what to do next. I found jobs easy to come by but I wanted a career. I realised I needed to get a degree to get into something worthwhile. Whilst researching my options I spotted the occupational therapy degree on Teesside University's website. I was immediately interested as my dad is in a wheelchair and he'd had help from an occupational therapist in the past. I got in touch with the University and within four days I had visited the campus, met with one of the senior lecturers from the course and decided it was the degree for me. When I was considering applying I bombarded the occupational therapy team with questions – I always got a reply.

One of the reasons I chose to study here was that it was the place I felt most comfortable when I visited the campus. I attended an interview at another university but it wasn't for me. I liked the set up at Teesside and appreciated how clean the campus was.

What's your course like?
I thoroughly enjoy my course. I find the academic elements difficult but understand that I need strong academic knowledge to succeed. The practical sessions of my course really complement the academic side of things and allow me to put what I've learned into practice. My favourite modules have been the placements – I've been able to go out and work with occupational therapists in the field and learn on the job – this style of learning really suits me.
How did you find adjusting to university life?
In my first year I stayed in University halls. I found it a challenge but only because it was very different from army life. I was lucky enough to get a job as a halls warden though – this was great. Student Services have been amazing for me too – you can get so much information. It makes it a lot easier for students living away from home to feel safe and looked after.

I have to admit that I've found getting back into education challenging. But I've embraced it. I owe a great deal to my lecturers for helping my transition back into civilian life. Having been on a high salary in the army it was a change for me to become a student with little income. But my focus is on gaining a good career and I'm happy with my situation – I live by the motto that if you love your job you will never work a day in your life.

What is your social life like?
As a mature student and coming straight from the army I have a different outlook to younger students. I've still managed to meet new, like-minded people though – I'm a member of the occupational therapy society and I play in a five-a-side football team. I don't socialise all the time in Teesside as I'm from Liverpool so I head home most weekends to watch the football. There are plenty of bars and shops around Teesside University though, and they always have deals on. I've found it a cheap place to live.
Would you recommend Teesside University to others?
I'd definitely recommend Teesside University and my course to others. Teesside is a cracking university with excellent staff and a clean and friendly campus. My course has really helped me in my transition from the forces to civilian life. Studying has given me a focus and allowed me to think in a new way and do new things outside of my comfort zone.
What are your future plans? Has Teesside University helped you to get closer to your goals?
When I graduate my ideal job would be to work with spinal injuries in a rehabilitation setting, to work with soldiers returning from war, or to run a children's care home. These are really different sectors but the nature of occupational therapy means I have lots of options. Without a shadow of a doubt, my time at Teesside University will help me get a job in my field. The occupational therapy course gives you the tools you need to work anywhere, with anyone. All you need is motivation, commitment and an ability to think out of the box.