Adam Mann
Adam won two Royal Television Society awards in his final year of study for his film, SHED.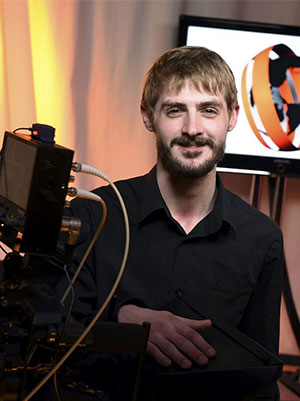 BA (Hons) Television and Film Production*
'Being nominated itself was an honour, but actually winning was a dream. My course has prepared me perfectly for the world of industry.'
What brought you to study at Teesside University?
I'd been passionate about film for a long time and I wanted to study a higher education course to increase my skills in this area. Documentary filmmaking allowed me to combine my love of English, sociology and photography. I thought I could change the world through film – and it's something I still hope to do one day. I was inspired to go to Teesside University in particular because of the open days I attended. Teesside sold the course to me in a progressive way which wouldn't see me bound to the classroom. The Creative Skillset accreditation that came with the course was also really attractive. I knew that by studying here I would receive some of the best industry-led teaching in the country.
What have you enjoyed most about your course?
I enjoyed the practical and technical teaching in the first year. There was no better way to introduce us. I'd never worked in a TV studio before but I jumped straight into studio work as a vision mixer across a music magazine show managed by myself and other students. My favourite module was Independent Production Portfolio (IPP) – it gave me free rein to express my creativity in any medium or role. In this module I produced my film SHED which screened at eight UK film festivals throughout 2016-17. It also won two Royal Television Society awards for best drama and production design. Being nominated itself was an honour, but actually winning was a dream.
What has your social life been like at Teesside?
My social life here has been amazing. My course mates have become my family, we live together, work together and socialise together. Creating a network of friends is important – don't worry about not making friends because the friends will find you. The great thing about Middlesbrough is the low cost of living, and the town itself is modernising and changing all the time. New boutiques, cafes and bars are popping up in the town centre. I also joined the battle re-enactment society purely for fun – it's important to create a work/life balance for yourself at university. Never did I imagine I would dress up in chain mail and do battle with swords and axes in the name of fun!
Did you do any work placements whilst at Teesside?
I was lucky enough to secure an industry placement within my first year of study. Thanks to BOOST I was placed with Samm Haillay at Third Films. Samm is an award-winning feature film producer and someone I've come to respect. It was his coaching outside university which really enabled me to make SHED a success. I have already secured two industry placements in the field of film and TV for after I finish my studies. The first one is in London where I'm working with Rogan Productions, and the second is closer to home in Newcastle with Bridge + Tunnel.
How has your time at Teesside helped you to get closer to your goals?
My time here has already paid dividends. You can truly make this degree work for you from day one if you're not afraid to dive in, make a few mistakes and be fearless. My course has prepared me perfectly for the world of industry. Teesside always has one eye on the industry, it never misses a turn or a trick and the teaching evolves with demand. I hope that in eight to ten years' time I will be producing my first feature film. I can safely say coming to Teesside has been my first step towards this dream. I have been able to do things here I would not have been able to do at any other university.

*Now known as BA (Hons) Film and Television Production