Georgia Ramsay
After a break from education, Georgia returned to university to find a fulfilling career she could take anywhere.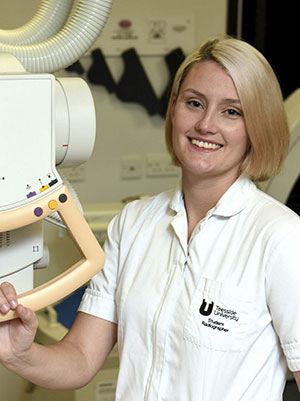 BSc (Hons) Diagnostic Radiography
'I chose Teesside University because of its location, student satisfaction scores, facilities and quality teaching.'
Why Teesside?
Several years ago, I started studying law at another university but I left before completing my degree. I then spent four years in Germany with my husband and started a family, but I felt unfulfilled in the work I was doing so began to consider other options.

I wanted a career with opportunities to progress that I could take anywhere in the UK, so I decided to study diagnostic radiography. I knew this would mean returning to higher education, but I looked forward to the challenge. I already had a good opinion of Teesside as I had a number of friends who'd studied here in the past, but ultimately I chose it because of its location, student satisfaction scores, facilities and quality teaching.

Why diagnostic radiography?
During a period of illness I underwent a number of radiographic examinations and found myself really interested in how the equipment worked. I did some reading and thought I would thoroughly enjoy radiography as a career – plus it ticked all my other boxes.
What's your course like?
I like that it's a small cohort compared to some other subjects, so there's a really strong sense of comradeship between the students. We rally round and help one another through any tricky parts of the course.

Pathophysiology has been my favourite module so far. It's fascinating, has fantastic lecturers and it gives much needed background knowledge for practice. I also volunteer as a course rep for my cohort along with another student. Together we raise any issues at liaison meetings with the academic team and signpost our fellow students to support services should they need it.

What do you think about the campus and local area?
The Campus Heart is modern and open – it has facilities to meet all student needs. The library is brilliant and has just undergone renovations which have helped to make it a fun and relaxing place to study. They also offer so many workshops to support study skills, applicable to any subject. There is always help available if you need it.

Students in the area are really well catered for. Despite living an hour away from campus, I've had the chance to visit most of the pubs around campus, even if it's just for lunch, and they are all great. We also arranged a Christmas meal at a local restaurant that was delicious and affordable.

Tell us about your placements
Our first placement block took place after Christmas until the summer break and it was really enjoyable. We were expected to be responsible for our own learning to achieve the competencies given to us at the start of the course. Academic learning can't compare with clinical experience – it's invaluable and allows you to get to grips with the day-to-day reality of working within your chosen profession.
Would you recommend Teesside and your course to others?
I would absolutely recommend Teesside, especially for mature students. The pastoral care is wonderful and the course itself is really engaging and forward-thinking.