International Student Barometer 2017
Teesside University is ranked number one of 120 world universities for overall average satisfaction (International Student Barometer 2017 - more information below)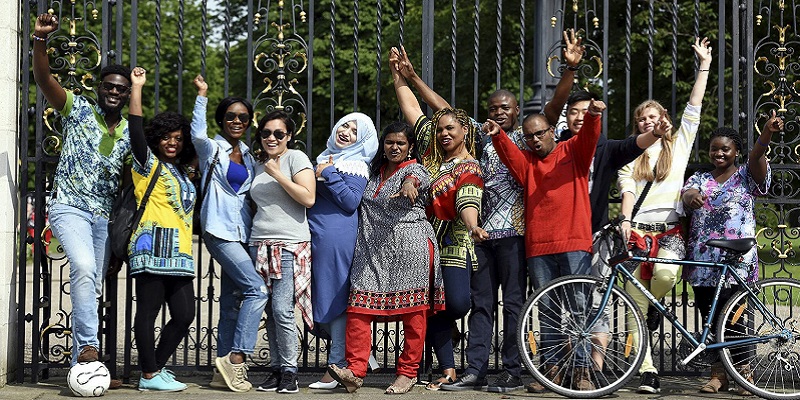 About the International Student Barometer Survey
The International Student Barometer Survey is an annual survey conducted by i-graduate.
The International Student Barometer Survey specifically provides universities with an understanding of the motivations, expectations and experience of international students.

At Teesside University, we use the Survey to gain insights into the experience we offer to our international students, to identify the things we are doing well and to understand where we need to make improvements.
It is divided into four sections learning, living, support and arrival with a series of specific categories within each section.

Participation in the International Student Barometer 2017
In the most recent survey, 120 universities around the world were benchmarked in the survey. 31 of those were UK universities.
409 international students at Teesside University responded, so the selection of results below are based on opinions from those students. You can find details of how to verify the results below on the i-graduate website.
2017 Results
You can see some of the results from the survey at the bottom of this page and on our ISB results page
How we used the results of the International Student Barometer Survey 2017
Students said:
They would like to have more information about starting university life safely and securely, from the moment you reach the UK to settling in on campus.

We have:
Extended our free meet and greet service to additional locations
Provided UK SIM cards to international students in advance of travel where possible or on arrival as part of the free meet and greet service
Extended our work with SafeZone, an app which provides you with an instant link to the University if you need help and assistance
Improved our Campus Services web pages, to include easy-to-navigate safety and security
Provided help and advice during induction week on security services on campus and staying safe around town
Students said:
They would like more opportunities to make home & host friends

We have:
Provided a £25 Fresher's Pass, free of charge, to all international students on orientation weekend. This guarantees entry to all 2018 Fresher's events and offers many discounts, to help you access social activities where you will meet other UK and international students.
Changed the format of Orientation Weekend activities to create more chances to meet with other students
Enhanced our pre-arrival communications to familiarise international students with campus life before coming to Teesside
Planned an International Student Festival for November 2018, open to all students
Students said:
They would like to experience a faster journey from application to offer of a place at the University.

We have:
Provided help and advice to our key international representatives to better support them in helping you through the application process as quickly as possible
Opened up more appointments for in-country English testing and have improved processes support test booking in the International Admissions team.
2017 results by ranking:
Of 120 global universities which participated in the International Student Barometer 2017, Teesside University is ranked:
- Number one in the world for overall average satisfaction
- Number one in the world for performance feedback
- Number one in the world for overall average satisfaction with the living experience
- Number one in the world for living costs
- Number one in the world for social facilities
- Number one in the world for its Accommodation Office during the arrival process (82 univerisities were ranked in this category)
- Number one in the world for welcome (107 universities participated in this category)

Of 31 UK universities which participated in the International Student Barometer 2017, Teesside University is ranked:
| LEARNING CATEGORY | UK RANKING |
| --- | --- |
| Average satisfaction with our learning experience | 1 |
| Assessment | 1 |
| Performance feedback | 1 |
| Marking Criteria | 1 |
| Course organisation | 1 |
| Quality lectures | 1 |
| Topic selection on postgraduate courses | 1 (30 universities participated in this category) |
| Careers advice | 1 |
| Physical library | 1 |
| Technology | 1 |
| Laboratories | 1 |
| Online library | 1 |
| Learning spaces | 1 |
| LIVING CATEGORY | UK RANKING |
| --- | --- |
| Overall average satisfaction with the living experience | 1 |
| Living costs | 1 |
| Accommodation costs | 1 |
| Social facilities | 1 |
| Social activities | 1 |
| Campus buildings | 1 |
| Financial support | 1 |
| SUPPORT CATEGORY | UK RANKING |
| --- | --- |
| Average satisfaction with support | 1 |
| Careers Service | 1 (28 universities participated in this category) |
| Students' Union | 1 |
| Catering (on campus eating outlets) | 1 (30 univerisities participated in this category) |
| ARRIVAL CATEGORY | UK RANKING |
| --- | --- |
| Average satisfaction with arrival | 1 |
| Accommodation office during the arrivals process | 1 (28 universities participated in this category) |
| Social activities on arrival | 1 (30 univerisities participated in this category) |
| Registration | 1 |
| Welcome | 1 (28 universities participated in this category) |
| First night | 1 |
| Institution orientation | 1 |
| Internet access on arrival | 1 (30 univerisities participated in this category) |
| Accommodation condition on arrival | 1 |
2017 results by percentage satisfaction, based on the views of 409 students
LEARNING CATEGORY
% SATISFACTION
Average satisfaction with our learning experience
93.3
Expert lecturers
96.1
Performance feedback
95.2
"Good teachers"
94.9
Learning support
94.4
Quality lectures
93.9
Course content
92.4
Research
90.5
Language support
94.8
Physical library
97.4
Technology in the learning environment
96.6
Laboratories
95.3
Online library
95.0
Learning spaces
94.6
Virtual learning
92.9
| LIVING CATEGORY | % SATISFACTION |
| --- | --- |
| Overall satisfaction with the living experience | 90.0 |
| Sport facilities | 92.5 |
| Social facilities | 92.5 |
| Social activities | 91.6 |
| Campus buildings | 95.8 |
| Eco-friendly attitude | 92.4 |
| Campus environment | 92.3 |
| Visa advice | 92.2 |
| Worship facilities | 91.5 |
| SUPPORT CATEGORY | % SATISFACTION |
| --- | --- |
| Average satisfaction with support | 95.6 |
| Careers Service | 100 |
| IT support (ITACS) | 98.9 |
| Students' Union | 97.5 |
| Counselling Service | 97.5 |
| University Clubs/Societies | 97.3 |
| International Student Advisers | 96.8 |
| International admissions/compliance | 94.9 |
| Halls Welfare Wardens | 94.9 |
| Catering (on campus eating outlets) | 94.8 |
| Personal tutors | 94.0 |
| Finance Department | 90.2 |
| ARRIVAL CATEGORY | % SATISFACTION |
| --- | --- |
| Overall satisfaction with arrival | 91.9 |
| Accommodation office on arrival | 100 |
| Social activities on arrival | 94.7 |
| Meeting staff on arrival | 94.6 |
| Registration | 94.2 |
| Welcome | 93.8 |
| OVERALL | % SATISFACTION |
| --- | --- |
| Overall satisfaction | 94.4 |
For more information about International Student Barometer and Teesside's results, please contact Sam Bull, Account Executive, Continuous Surveys, i-graduate, Sam.Bull@i-graduate.org
---